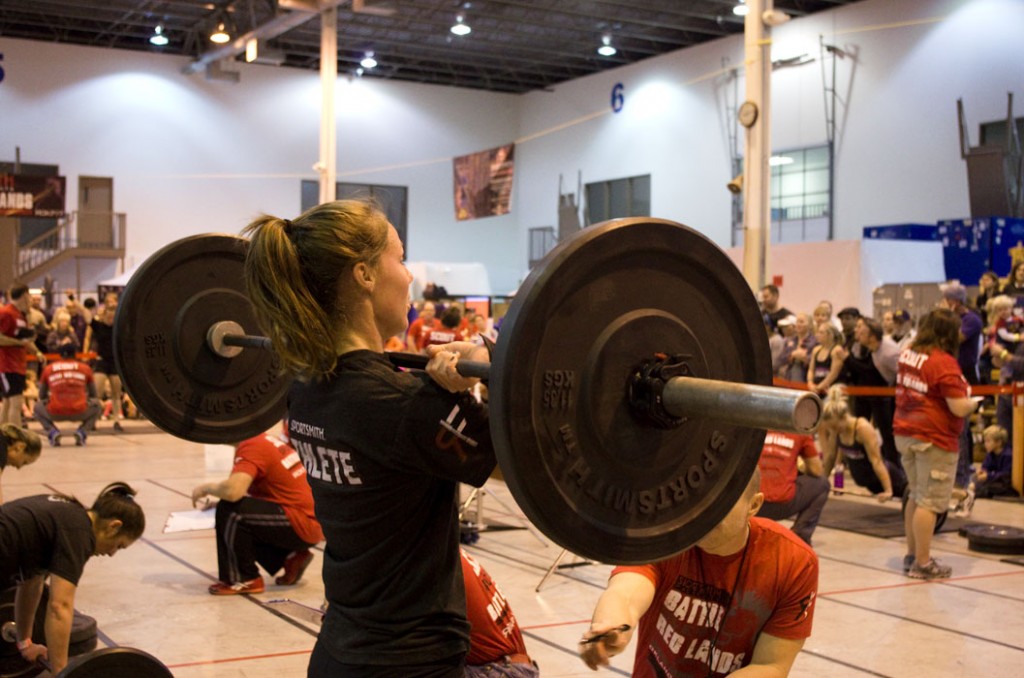 In spirit of the CrossFit Open kicking off this past Wednesday we thought we would join the excitement! Want to be in the know about CrossFit?  We hope to share a bit of our knowledge and love for the sport with you!!
What is it?
We are so glad you asked! The Open is a worldwide CrossFit event that takes place this year from March 6 - April 7. Each Wednesday a new Open workout is posted and they have until that Sunday to complete the workout.  Participants are able to complete the workout at a participating affiliate gym or videotape their performance and submit it to the Games website (We will touch base on the Games later). CrossFitters are able to participate in the Open as an individual or a team of 3 men & 3 women.  At the end of the 5 weeks the Open's top athlete individuals and teams in each region will move on to the Regionals.
The regionals are a three day event where the top athletes from each region have to compete in a series of brutal workouts to hopefully secure an individual or team spot in final event, The Games.  At the end of each Regional only 3 men, 3 women and 3 teams will advance to the CrossFit Games.
On July 22-28 The Reebok CrossFit Games will take place in California where the Fittest on Earth™ will battle their way to the top!  To find out more about the Games check out http://games.crossfit.com
The popularity of CrossFit over the past few years has blown up. The 2011 CrossFit Open had 26,000 participants which is nothing compared to the 2013 Open which has over 130,000 participants! Every year the competition of the Games becomes fiercer with the wide-spread growth and popularity.
What equipment do they use?
CrossFit workouts include a variety of different products for their workouts. However, you will not find the large equipment you see in everyday gyms such as weight machines, ellipticals or treadmills. Once you walk into a CrossFit gym you will understand that it is not your average gym. It is filled with kettlebells, dumbbells, Olympic bars and bumper plates, soft medicine balls, jump robes (You thought they got rid of those after middle school right?!), Plyo boxes, gymnastic rings and rowers.  CrossFit doesn't use machines – They make them. You can check out some great CrossFit packages or individual products mentioned above here, http://www.sportsmith.net/cf
Want to join the craze?
You can find any local CrossFit affiliate on the CrossFit Community site, http://community.crossfit.com/what-is-crossfit/find-an-affiliate-map. At any of these locations they should have all the appropriate equipment for your WODs (Workout of the Day) and to train you properly to get you ready for the Open 2014!
If joining an affiliate isn't exactly your thing training from home isn't farfetched! On the community site you can learn all the ins and outs of CrossFit. On the training page you are able to learn about different certifications you can receive in CrossFit to become an instructor, they provide a list of exercises with videos and demonstrations and even give you several different WODs to try it out on your own.  We defiantly encourage you to take some courses if you are going out on your own so you know to properly do the exercise movements.
Love it yet?
We are giving you fair warning here… CrossFit is humbling, addictive and intense. If you join a gym the athletes will mostly likely be a second family. The atmosphere at any CrossFit event is more intense and energetic then anything previously experienced. Fellow athletes and spectators cheer on people they have never seen or heard of like it's their favorite football team about to win in overtime.  Even though CrossFit can be very competitive the comradery within CrossFit athletes is what demonstrates what this culture is all about.