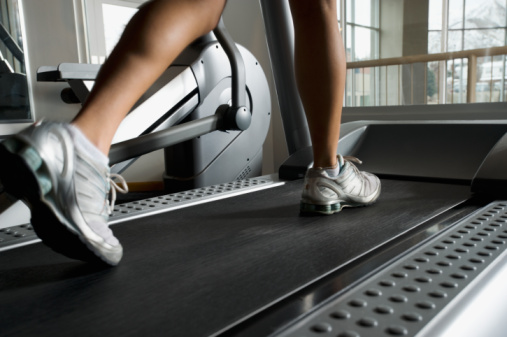 With a treadmill, one of the most common issues people experience is a belt that's slipping. There are a few reasons this might happen. Luckily, there are also a number of fairly simple ways to fix this issue that you can do on your own, without calling anyone to service the machine.
Why Your Belt Might Be Slipping
There are actually two belts on a treadmill - there's the belt most commonly talked about which is the walking / running surface of your treadmill. And then there's the drive belt which connects from the motor to the front rollers. In this case, we're discussing the walking surface of your treadmill.
There may be a few reasons why your belt is slipping. Before trying to figure it out on your own, or even with general instructions like these, you want to check the manual produced by the manufacturer of your machine.
This is especially important if your machine is newer or still under warranty because the warranty may limit what repairs you can do yourself. Many warranties specify that only a repair service authorized by the manufacturer can perform certain repairs, so that's something to keep in mind before moving forward.
Too Much Friction. In some cases, the belt may need to be lubricated because the friction may be causing the belt to slip. Be sure to check your owner's manual for the compatible lubrication.
Tension. Most often this is just a case of needing to adjust the tension of the belt. With use and age, the belt can naturally stretch, losing some of the tension and causing the belt to slip. There are a number of methods to correct this which we'll discuss in detail below.
Drive Belt. In some cases, the running belt may be stopping because the drive belt needs to be tightened on some models. This can be performed at home, though you'll want to check your manual. This type of repair will usually void the warranty if there is one.
Adjusting the Tension in Your Running Belt
If your belt is slipping, it's usually a matter of adjusting the tension. There are three different methods to repair this issue, which work on new belt installations as well as repairing existing running belts.
Stomp Test on Front Roller
The stomp test is a great way to test the retention on your running belt and repair an existing belt that's slipping.
Check the rollers and underneath the belt to make sure there is no debris or wax buildup.
Verify that belt centering is correct or true.
Stand on machine and set to 3 mph.
Attempt to stop the running belt from moving by bracing your feet on the running belt and your hands on the bar.
If the belt slows or slips and the rollers are still moving, your tension needs to be adjusted. To do this, turn the adjustment tools on both sides of the rear roller to tighten, about a quarter of a turn to start.
Repeat test and adjust until the rollers stop moving when you stop the belt.
Using Belt Gauges
For most belt replacements, using calipers would be a preferred method. It can be done without gauges, though this does make the process slightly simpler. Gauges can also be used to adjust machines with existing belts.
Using belt gauges or calipers, you're going to stretch the belt according to the manufacturer's specifications.
This method is usually used on  a new belt but can be performed on a machine where the tension just needs to be adjusted. In the case of an existing belt, you need to release the current tension before applying the gauges.
Without Using Calipers
In the case of an existing belt, release the current tension before proceeding.
Using a tape measure, put two marks on each side of the belt, 36 inches apart in the length.
Then adjust the side bolts on both sides to 36 and 3/16 inches.
Test the machine and adjust if needed.
There are a few reasons that your treadmill belt might start slipping. It could be a simple matter of age and use. A lot of activity on the machine or heavy running can also cause the belt to stretch faster than moderate use might. Armed with this information, you should be able to diagnose the issue. Some repairs may be more advanced than what we've detailed here and it's always advisable to check the manufacturer's manual before attempting any repairs.
Additional Resources:
Save
Save