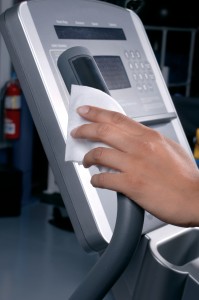 People who care about fitness should care about influenza. Seasonal flu is a serious problem every winter, and the current trends for the 2014 flu season show influenza on the rise. It can spread quickly anywhere a crowd gathers.
Even a light case of the flu can make life miserable for more than a week, spoiling work, workouts, and play. Yet it is possible to fight the spread of flu.
Protect your members from:
•Flu complications
•Flu downtime
•Lasting lethargy and sub-par performance
Health clubs and fitness centers are especially vulnerable to the flu, because the members all share the same equipment, and often everyone grabs it in the same place. Nobody wants to take the time to worry about germs, but they appear each flu season, and a swipe with a personal terrycloth towel will not wipe them away
The Problem
Germs spread easily where people spend time close together, and people can spread the flu and many other illnesses before they even feel sick. As the CDC says, "Most healthy adults may be able to infect others beginning one day before symptoms develop and up to five to seven days after becoming sick." Flu virus survives on surfaces too, according to the United States Centers for Disease Control. Yet a few simple precautions will keep your gym from being "Where I got the flu."
How do you fight influenza? Fitness helps people stay well, but so does hygiene. Providing wipes and towelettes shows athletes that you are looking after their health and safety, and protecting everyone from a disease that can spread like wildfire. Clean and sanitize all the surfaces your athletes touch, to look out for the members of your fitness facility.
The Solution
The three sanitation concerns for fitness facilities are exposed skin, hard surfaces, and soft surfaces. Sportsmith provides solutions for all three.
1.  Anti-Bacterial wipes contain a gentle effective sanitizer especially formulated for use on the body. It smells effective but not strong, and dries quickly, leaving skin feeling fresh. Making wipes available is one easy way to prevent the spread of influenza and other infections among your members:
• Use on hands, arms and legs, wherever you touch equipment
• Safe and effective on facial skin
2. Disinfecting towelettes clean hard surfaces. They kill viruses, fungus and bacteria, including staph. This product is gentle enough to use without gloves, yet highly effective. Use on:
• Metal
• Plastics
• Laminates
• Rubber
• Plexiglass
Flu complications can include pneumonia, meningitis, and encephalitis. These are all rare. However, downtime from the flu is common. Influenza takes its victims out of action for up to ten days, and sometimes longer.
Even when someone gets over the flu, they may still not feel completely back to normal. It can take months before an athlete functions at peak again. Influenza and other viruses can really put a dent in performance.
Protect your members from the flu and many other contagious diseases, and keep your facility sparkling. Take care of your members, with economical body wipes, towelettes, and cleaning wipes from Sportsmith. Your members will know you care.
Additional Resources: