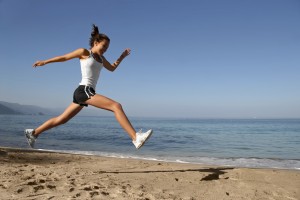 This year's National Family Health & Fitness Day falls on September 29th, and as every year, on the last Saturday in September. Events are scheduled in local communities throughout the United States, to promote family involvement in physical activity. There are many ways, and just as many reasons to participate.
Lifestyles have changed through this country's evolution to its present state, and so has the level of physical activity in its families. This is commonly evidenced by the overall American state of health. The American Health Foundation says that health improvement in the U.S. has declined more than 69 percent over the last decade, as compared to the 1990s.
Various issues are often purported to be the root of this decline, yet, regardless of cause, the evidence is still the same. American families need more physical activity.
Physical activity is beneficial to the health of both mind and body. This applies to anyone, at any age. Parents who set an example for their children, in scheduling regular physical activities for the family, are setting them up with healthy habits that could last for a lifetime.
These activities may not need to take much extra time, if any at all. You might easily integrate some into regular daily activities, such as walking to work or school. Still, if you are uncertain as to how much physical activity is necessary to maintain a healthy body, there are some suggested guidelines to work with.
Adults require two types of physical activity, according to the Centers for Disease Control and Prevention. These include moderate-intensity aerobic activity for 2 ½ hours weekly; accompanied by two or more days of muscle-strengthening activities, that work all the major muscle groups.
For younger family members, The National Institutes of Health states that most children need at least an hour of physical activity each day. A few of the benefits that this one hour can yield are stress relief, a healthy weight, and raised self-esteem.
On the other end of the spectrum, a lack of physical activity may yield the opposite effect. According to the Mayo Clinic, physical activity helps to prevent, and even to heal the effects of such inactivity. These include high blood pressure, obesity, and depression, to name a few. These types of issues often come together, making it easier to prevent them than to overcome them.
Alarmingly, these issues are no longer exclusive to adults, as many had once considered them to be. Obesity itself is now considered at epidemic levels, and affecting any age.
Aside from unwanted physical and emotional health issues, obesity has unexpected financial costs, and thus creates expense that anyone can afford to lose. An infographic from Forbes offers some surprising insights into this aspect.
It offers straightforward facts such as, in America alone, in the year 2010, medical costs related to obesity were at $160 billion. Gas consumption, due to increased passenger weight in earthbound vehicles, went up an extra 938 million gallons for that same year. Airline fuel consumption soared, as well. Yet, these are just a part of the unnecessary expenses associated with obesity.
This epidemic must be faced.
Hence, family health and fitness is one venue to empower each family member individually, as well as the family as a whole.
Empowerment could mean that you or your child may never need to take on the challenges and associated health risks of an obesity issue; or it could mean that a family member who already has can experience the thrill of victory, with overcoming these same things.
Physical activity puts your family more firmly in control of its own physical health, and hence, of its own financial health.
National Family Health & Fitness Day can be that first step in a healthier direction, or it can be another step on the road to family fitness. It matters not what level of fitness your family is at, it is a day to re-empower your whole life, and the life of your whole family.
The National Family Health & Fitness Day website offers suggestions on where you may find these events held in your local community. These can include your local YMCA, schools, health clubs, and various other community locations. Your local newspaper may have events in your area listed in its community events section.
If you happen to live in an area without an event held nearby, you can still participate in the day. Invite your family for some physical activity, and enjoy the benefits in more ways than one.
Suggestions for the day might include:
* A walk
* A bike ride
* A game of Frisbee golf
* Line dancing
* Rollerblading, roller skating, skate boarding
* Any sport the whole family enjoys participating in
Whatever you do, be creative, have fun, and be actively involved in your family's health and fitness.