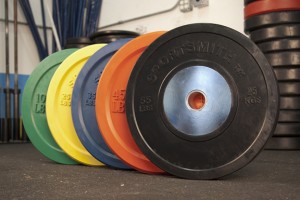 Anyone who takes their fitness training seriously knows that they also have to be serious about their equipment: their gear has to work as hard as they do. For athletes into weight training, it's important to buy bars and plates with precision and durability, but at a price that suits the pocket.
That's why more athletes and coaches rely on Sportsmith. Top brands, low prices and same day shipping have helped make Sportsmith the nation's leading supplier of strength and fitness products.
Right now at Sportsmith, there is an extensive range of black and colored plates, from 10lb up to 55lb, all at the best prices you'll find anywhere. No matter if the end goal is Olympic lifting, gym-based workout programs, or just personal strength and fitness training, Sportsmith has the plates to meet your training and competition needs.
What are bumper plates?
Bumper plates are precision weights made of extremely durable rubber. They're all the same diameter (450mm) regardless of weight, and they all fit an Olympic bar. They were invented in the 1960's during a boom in personal fitness, as more and more people began to realize the importance of weight training for health and strength. Traditional metal weights used in lifting could seriously damage platforms and floors if dropped from height, so bumper plates were developed to bounce safely instead.
While not as cheap as iron plates, bumpers are a sound investment as they are long lasting, much less likely to cause surface damage, and available in colors to make weight selection easier.
Additionally, there are lightweight bumpers called technique plates. These are typically thinner and lighter than normal bumper plates, and aren't really made for repeated dropping. They are ideal for kids, however, or for workouts that focus more on technique and general fitness than on explosive strength.
If you're setting up equipment for a professional or home gym, you're going to need a good variety of bumper plates. It can be a big investment, so you want to get it right. Choose a supplier that offers quality and variety and won't break your budget. Choose Sportsmith, because the only thing you want to be sweating over is your workout.
Sportsmith bumper plates
For serious lifters, Sportsmith has competition bumper plates in black, ranging from 25lb (at just $56.95) to 55lb monsters, priced at just $104.95. With precise calibration, each plate bears the Sportsmith logo, and that's a personal guarantee of quality.
Also available are bumper plates designed for every health centre or home training setup. Ideal for high intensity interval training training, Sportsmiths range includes Olympic rubber bumper plates in black or colors, with or without the logo. Pick up your basic black 10lb bumper from only $15.75, or a colored (green) weight for just $19.95. Choose a quality 25lb yellow, 35lb blue or 45lb red bumper, or go for the same models in black and save even more.
Complete sets are also available. For the complete range, just click on this link: Bumper Plates
Want more? Check out Sportsmiths technique plates, or fractional plates as small as ¼ lb plates, available in matching pairs.
Sportsmith has the gear to get you fit. The rest is up to you.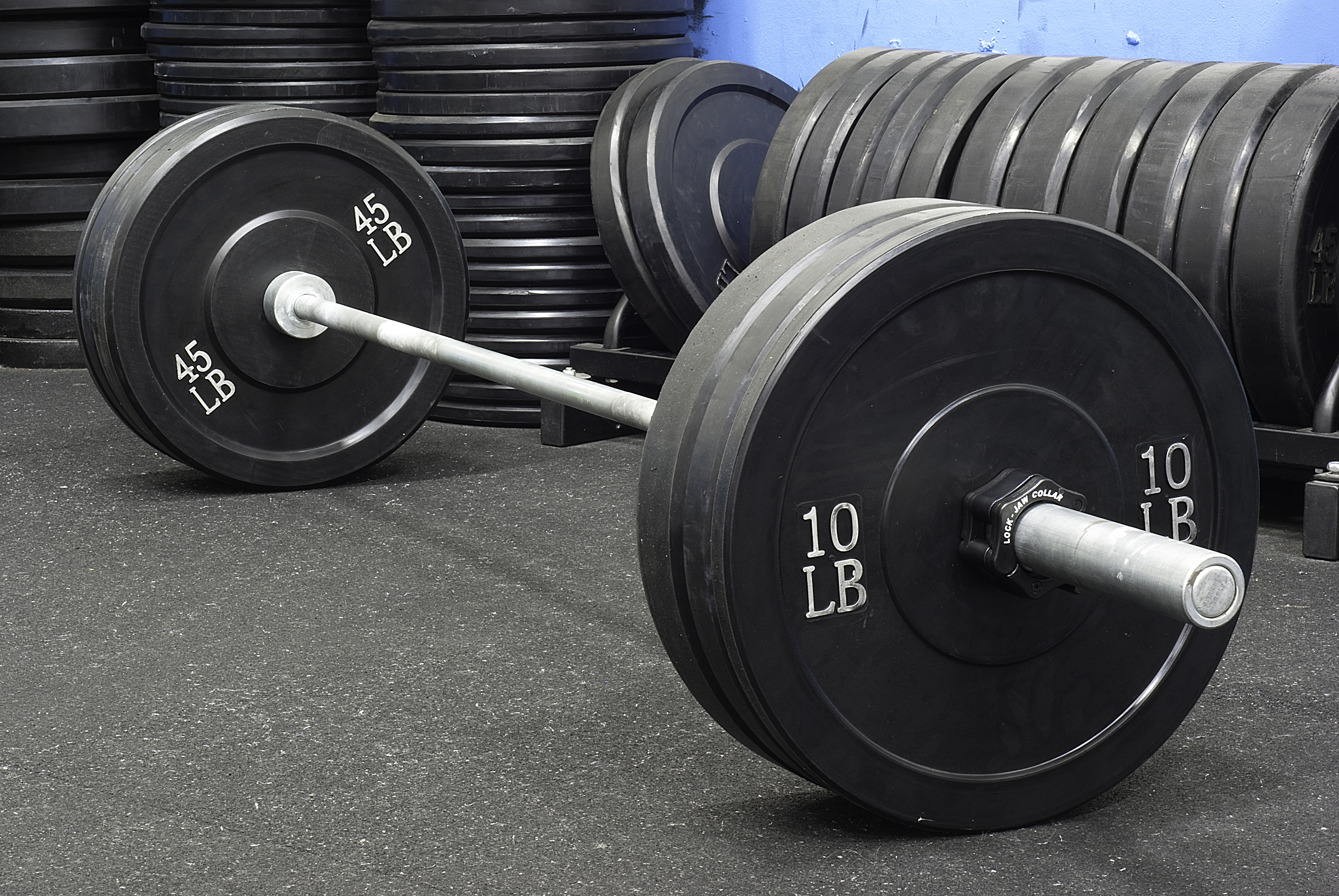 Regardless of what you spent on your Olympic bars, they are an investment. And, if you operate a gym, health club or high intensity training facility, you know those bars are definitely a popular piece of equipment, subject to a lot of wear and tear.  Ask yourself, "What do we do to maintain our Olympic Bars?" You'll probably end up shrugging. Many tend to not really maintain their bars despite their importance and usually manufacturers don't offer up any care and maintenance tips beyond: Don't drop or overload the bars.
So, what should fitness facility owners and managers as well as home gym enthusiasts bear in mind when it comes to keeping their Olympic bars at their best?  Cleaning, rust prevention, and storage are top considerations.
Combating Rust
Fact 1: Bars are made of steel and steel rusts when wet.  Fact 2: When people workout, they sweat. So… when sweat gets on the bars, you can end up with rust. Bar manufacturers try to avert this by placing a coating on the bars. Common coatings include black oxide (the least expensive), chrome, zinc, and fabricating bars out of stainless steel, which is the most expensive option. However, regardless of coatings, gyms must still maintain their bars.
Don't Chalk it Up
If your gym provides chalk, clean off the knurling on your bars on a regular basis. Depending on how much chalk gets used, this task could be performed daily.  (Also remind members who bring their own chalk to clean it off as a courtesy to others.) Think about it… Chalk is used to dry sweaty palms by absorbing moisture, so when chalk remains on the bar, it's absorbing moisture too. That means any moisture, including humidity in the air. When the chalk absorbs this and holds it on the steel bar, it's going to be susceptible to rust. So, to keep those bars of yours from rusting, it's essential to clean off the chalk.  A small stiff nylon bristle brush will do the trick: Simply go over the knurling with the brush to remove caked-in dirt and prevent future rust.
Wipe Out
Regularly wipe down all your bars with 3-in-1 Oil or a light coat of WD-40. How often you do this depends on how often a bar is used. If you work out at home, twice a month should suffice. If you're responsible for a gym, then once a week would be good. If there is high humidity at your location and bars are used often, you may need to wipe them down on a more frequent basis. WD-40 is a good choice because it displaces water and dries quickly. Just spray some on a rag and wipe down the entire bar with a good even coat. If you use 3-in-1 Oil, wipe a thin coating on the entire bar, have it sit on the bar overnight, and then wipe it down once again. While 3-in-1 Oil does a great job, it will leave the bars feeling a bit greasier than WD-40.
Since today's bars are crafted to be mostly maintenance-free, there's usually no need to oil the sleeves as these often have oil-impregnated bushings or bearings. Some high-end bars feature small oil holes in their sleeves so you can drop in a little bit of 3-in 1 Oil allowing it to work into the sleeve. (Note: Never use WD-40 for this particular of application.) Do this after use, then check the bar before using it again to see if excess oil may have leaked out and just wipe it up.
Storage Matters
Bars should never be stored with any weight on them. NEVER! If you or your club members leave weight on a bar, you're asking for a bent bar -- especially if the bar is on a rack.  While bars are designed to withstand weight, they aren't designed to permanently hold this weight. You've got to strip your bars, and in the case of gyms, encourage members to do this. Also be prepared to do some work over the course of the day, removing any weights that may have been left on and put the plates away. Besides protecting the bars, it keeps gym members happy if they don't have to keep stripping weights others left behind.
Your unloaded bars may be stored on a rack or bar stand. Horizontal storage is preferred, however, its best not to not store your needle bearing bars in a horizontal bar holder. This can cause damage to the needle bearings when the bar is dropped into the holder. A majority of gyms using needle-bearing bars for Olympic lifts avoid damage by utilizing wall racks for storing this type of bar.
It's relatively simple to maintain your Olympic bars with just a little bit of time and effort. It's worth it to protect your investment in this equipment and keep it useful for years to come. If you have any tips on maintaining Olympic bars, feel free to share them with us at [email protected].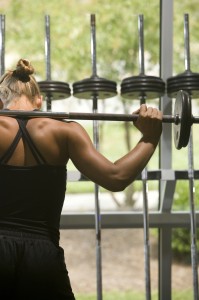 Weight lifting is a great exercise that builds strength, and even self confidence, but do you need accessories to accomplish this?
Weight lifting, especially heavy lifting, requires strong leg, back, and abdominal muscles.  In order to protect those muscles you may want to invest in a weight lifting belt.  These are belts worn while lifting weights overhead and also while lifting in an upright position.  Belts are designed to reduce the strain placed on the back muscles during these lifts.  They are made in a variety of materials and sizes.  Not only are professional lifters using these now, recreational lifters are also starting to use them as well.  Belts work by compressing the abdominal cavity to reduce the amount of stress placed on the lower back during lifting.  The tightness of the belt is also important.  Weight lifting belts should not be worn extremely tight because they can cause a rise in blood pressure.  Belts also make the lifter more aware of the position of their back, which can lead to better posture in lifting, and better performance.
Bar pad eases pressure on shoulders during squats and lunges to enable lifting of heavier weights. Bar pads wrap around the bar and protects the lifter´s neck and shoulders. Typically bar pads fit around all standard and Olympic bars.
Straps supplement and enhance grip without compromising feel for the bar, enabling heavier lifting with less fatigue.
Apply to hands for a secure grip when lifting without gloves to help prevent bar from slipping during lifts, and under knee wraps for extra hold. Keeps hands dry for a secure grip.
Gloves
Weight lifting gloves can also be beneficial.  Using gloves can help with grip, pressure which causes sore hands, and calluses.  Some things to look for in a pair of weight lifting gloves are:
* Material – Leather and neoprene gloves allow for better grip, and hold up longer than nylon gloves.
* Fit – Gloves should fit tightly enough to give you a good grip, but not so tight that they cut off circulation.
* Wrist wraps – Gloves with wrist wraps give added support when lifting, and can help to prevent certain injuries.
* Fingerless – Using fingerless gloves helps to prevent the build up of sweat.
Although accessories are not mandatory for all forms of weight lifting, if you are considering heavy lifting you should be sure to take all of the necessary precautions.
Author: Philip Martinez of the <a href="http://www.extremehomeworkout.com/">Shaun T Insanity Workout Store</a>, its the number one site to <a href="http://www.extremehomeworkout.com/insanity-with-shaun-t.html">Get Insanity</a>.