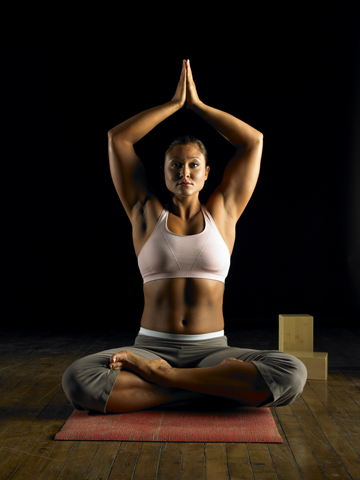 With students returning to school, what better way than to kick-start September by participating in National Yoga Awareness Month, introducing more people to the healthy benefits of Yoga. All across the country,  Yoga studios will be hosting activities such as Yoga classes, concerts, and other special events to inspire people to "practice Yoga and create a more balanced lifestyle".
To start off, the Yoga Health Foundation, a non-profit organization registered in the State of California is offering one week of free Yoga to new students. By giving interested persons a "Yoga Month Card", it serves to initiate interest and awareness in Yoga. The card  has no monetary value and is good from September 1 to October 30.  Invite your family and friends to take advantage of this offer; encourage your neighborhood Yoga studio to participate and/or register events; have an expert come into schools or physical education classes to lead student-wide Yoga sessions.
Presently, over 1600 studios have registered and are involved in National Yoga Awareness Month. For your free pass to get started in Yoga, please click here.
After the month of activities are over, a culminating event will take place on September 30th, 7:00 pm local time. Yoga students of all experience levels are encouraged to practice an international observance with their teachers by doing a "worldwide Yoga practice". This will be an hour-long practice, followed by Savasana at 8 pm, and 15 minutes of meditation at 8:15 pm, focusing on universal peace and well-being. Savasana is also known as the corpse pose, a resting position that signifies the final relaxation of a Yoga session.
This final event will encompass a virtual worldwide wave-effect, spanning nations and countries, coming together through various time zones to end National Yoga Awareness Month with one big bang.
For a person who is new to Yoga, there are many styles to choose from; it may be a bit daunting at first as where to start. Yoga studios, being quite prolific these days, no matter what type of Yoga they teach, practices are all based on the same poses. The only difference is the emphasis or focus placed on movements, whether they are for flexibility, strengthening the core, or addressing injuries, etc.
Most importantly, you should try to find a style that suits your personality, needs, and purposes. Yoga has been around for over 5000 years, and as such, people have been practicing Yoga for various and numerous reasons: body toning, stretching after a workout, reducing stress levels, clearing the mind, boosting the immune system, for detoxification. The benefits are manifold. Listed below are the five most common types of Yoga styles.
A great starting point for beginners is "Hatha Yoga". Begun in India in the 15th century, this type of Yoga is both gentle and slow-moving, focusing on deep breathing practices and meditation. Basic poses are introduced to students, along with relaxation techniques. The benefits of Hatha Yoga are for managing stress, as physical exercise, and improving techniques.
Vinyasa Yoga is a variation on Hatha Yoga, where rhythmic breathing is synchronized with moving from one Yoga pose to another. This style of Yoga emphasizes the Sun Salutation pose, leading to a flowing series of 12 poses, breathing in and out with each movement. "Yoga Flow" is a popular class in many studios, where Tai Chi is incorporated with Yoga moves into one continuous fluid motion that is choreographed to Zen music, a form of Yoga that is both uplifting and cleansing in nature.
Vinyasa Yoga is great for building lean muscle mass throughout the body, plus total body conditioning. At the same time, this style improves strength and flexibility, along with toning abdominal muscles. This practice helps reduce risks of hypertension, heart disease, and Type II diabetes. It is appropriate for both beginners and students at advanced levels.
Ashtanga Yoga is also known as "power Yoga", where emphasis is placed on the eight limbs of the body. However, these are not physical limbs, but rather, aspects of a person's psyche: mental, emotional, and spiritual. This kind of Yoga is fast-paced and intensive, with many push-ups and lunges, designed to maintain body strength and stamina. At the same time, these moves help to relieve stress, improve coordination, aid in weight loss, and address the spiritual self. For a more detailed explanation on all eight limbs, please click this link.
Lyengar Yoga covers all 8 aspects of Ashtanga Yoga, but its concentration is on aligning and balancing the body. In this style, props are frequently used to strengthen poses: Yoga blocks, straps, blankets, etc. Standing poses are emphasized and held for long periods of time. In this way, alignment and balance is improved; body strength is built; and recovery from injury is sped up. This kind of Yoga is therapeutic in nature and beneficial for chronic conditions like arthritis, as well as being a good introductory course for beginners.
Bikram is also therapeutic in nature, known as "hot Yoga"; it takes place in a heated room of 95-100 degrees Fahrenheit. The aim of Bikram is to flush out toxins through sweating, and to loosen tight muscles with endurance stretching and deep heat massaging of various poses. In addition to cleansing the body, Bikram Yoga enhances flexibility and can speed up recovery from injury. These classes are appropriate for beginners, advanced students, and people with physical injuries.
No matter what type of Yoga you choose to practice, you can find studios all across America and around the world. To find a Yoga studio nearest you, click here. Additional websites are also available if you want to do some exploring. If you haven't already joined the Yoga movement, now is the perfect time to start, as National Yoga Awareness Month is here to initiate and inspire you to lead a healthier, wealthier, and more balanced lifestyle.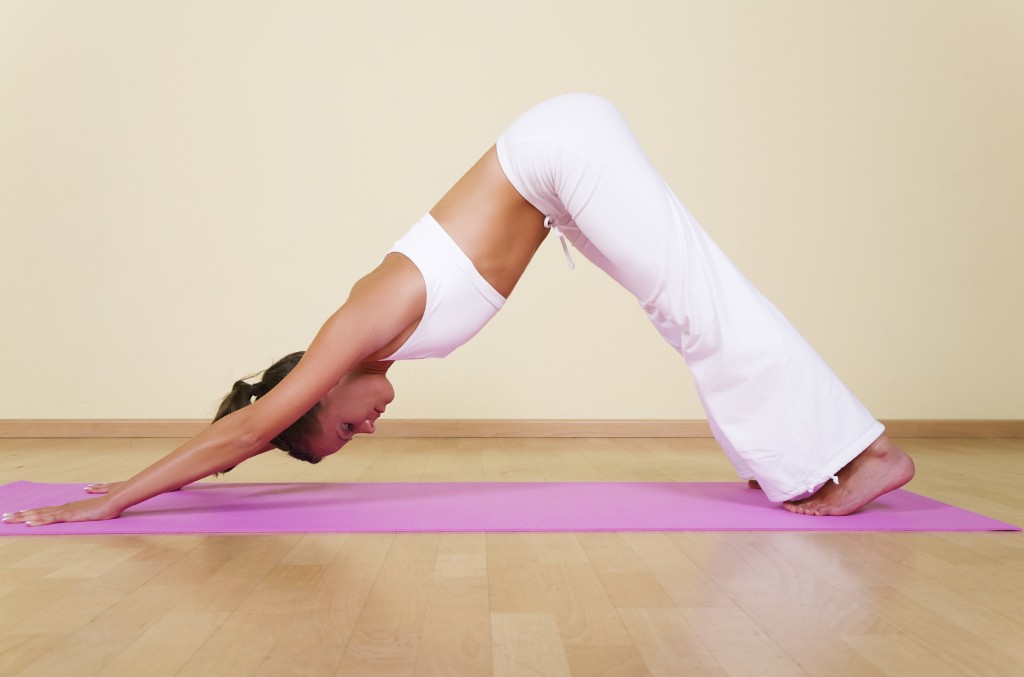 National Yoga Month Starts Now
National Yoga Awareness Month is on the doorstep! Starts September 1, 2012.  Hundreds of Yoga events around the world are taking place to celebrate the role of Yoga in healthy living and to introduce new people to Yoga. If you have ever been curious about Yoga, this September is the perfect time to discover how Yoga can open the door to lifelong health benefits.
Events
Yoga studios across the nation are opening their doors to celebrate National Yoga Awareness Month. Some are planning special displays and exhibitions.
Yoga Aid Challenge
This September 9, Yoga studios around the world are celebrating the joy of Yoga by fundraising for a cause. The Yoga Relay will follow the sun around the world, starting at Sydney, Australia, and ending at sunset in Los Angeles.
More than 200 Yoga events are planned for this day alone. Many of them will feature some of the premier Yoga teachers in each community. Thanks to the miracle of time zones, MC Yogi will be able to participate in both the opening and closing events of the 2012 Yoga Aid Challenge.
Since this event first began in 2006, the Yoga Aid Challenge has raised $1.2 million for charities around the world. This year, organizers hope to raise $1 million. The funds raised during this event will go to local charities, many of which are involved in smaller, community-driven projects.
Global Mala Yoga for Peace
On September 20 through 23, the global Yoga community will unite to form a "mala around the earth." The mala and its 108 beads is symbolic of the prayer for peace, hope, and charity.
The events of a Yoga mala will differ by Yoga tradition and inspiration. Typical events during a Yoga mala may include 27, 56, or 108 sun salutations, or 108 minutes of meditation, kirtan, or movement meditation. Some Yoga centers will also add community service as part of their global mala events.
Most centers will time their early events this year for September 19 or 20, to match the fall equinox and give a strong lead-up to World Peace Day on September 21. Many will also have major global mala events on the September 22-23 weekend. Check with your local Yoga centers for details.
The Time for Yoga
National Yoga Awareness Month winds up on September 30 with another worldwide celebration of Yoga. At 7 pm local time, Yoga students around the world will participate together in an hour of Yoga practice, followed by 15 minutes of savasana and a 15-minute meditation for universal peace and well-being. In this way, a wave of Yoga will flow around the world to bid the sun farewell at the end of National Yoga Awareness Month.
Different Types of Yoga
Yoga is an extremely ancient concept. It is mentioned in writings as old as the Bhagavad Gita, where Yoga is divided into karma Yoga, Bakhti Yoga, and Jnana Yoga. Karma Yoga is the Yoga of action. Bhakti Yoga is the Yoga of devotion, although all Yogas are considered devotional. Jnana Yoga is the Yoga of knowledge. Hatha Yoga is the most familiar form of Yoga to most Americans. It develops strength, flexibility, and stillness of mind through physical postures ("asanas") which are designed to open the channels of the body so that energy can flow freely. The word "hatha" comes from the word for "forceful," as focused through physical exercises and applied willpower. It also has the balance of sun ("ha") and moon ("tha") which is essential for creating balance and uniting opposites. Many other types of Yogas are also practiced around the world. For example, you may see references to "eight-limbed Yoga" ("ashtanga Yoga"), which is the basis of modern Raja Yoga. These eight limbs cover all parts of lifestyle and spirit from right behaviors to proper breath control. Moksha Yoga is a form of Yoga which is practiced in very hot temperatures.
Wondering how to get started?
Making Yoga a part of your healthy lifestyle is easier than ever during National Yoga Awareness Month. Over 1,600 Yoga studios are offering a week of free introductions to Yoga, from beginner levels all the way to specialist branches of teacher training. Whether you want to try out a new branch of Yoga or have never tried Yoga before, you are certain to find a Yoga center event which is ideal for you.
Even the American government has gotten behind National Yoga Awareness Month. This National Health Observance has been marked by the Department of Health & Human Services to promote and educate the public about the health benefits of Yoga.
National Yoga Awareness Month is the perfect time to discover how Yoga can work for you. Commit a week to a free introduction to Yoga, invite Yoga into your life for a month, and discover the health benefits that will last you a lifetime.
How will you participate in National Yoga Month ?
(Write your comments below)
Additional Resources:
Yoga Mats
Yoga Props & Blocks
Yoga Straps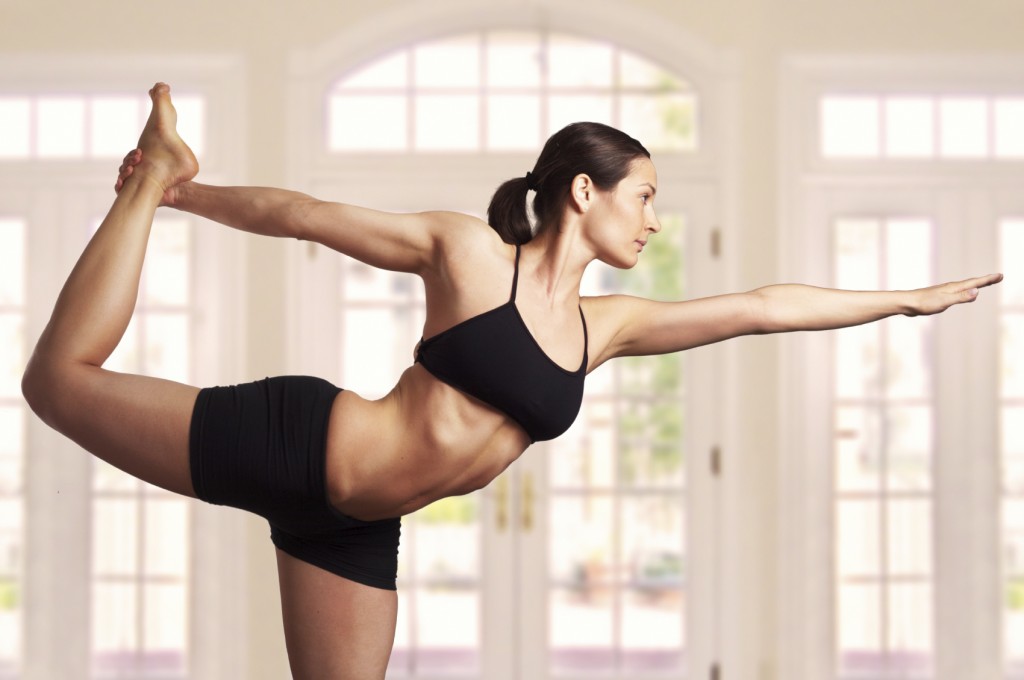 One of the best parts about yoga is that it can be done anywhere and without much equipment. It is truly a democratic routine. All you really need is a yoga mat, yoga blocks, and yoga straps. A good yoga mat is important because it will shield your feet and body from the ground. You will spend a lot of time on the ground, so it's important to be protected. Besides the yoga mat, yoga blocks and yoga straps can help lengthen your body. In the beginning, you may not be flexible enough to perform some of the poses. A yoga block or yoga straps allow you to perform the move without too much strain.
If you do decide to start a yoga program, you should conduct research and look for classes in your area. Gyms offer many different classes depending on style and experience level. For example, Bikram Yoga runs 90 minutes and consists of doing 26 poses in heat. If you can't make it to the gym and are doing it at home, there are some moves that you should absolutely consider trying out to feel the bull benefits of yoga.
Downward Dog strengthens your upper body and can help relieve lower back pain. Start with your knees and hands on the ground about shoulder length on the ground. Lift your knees off the ground until your legs are straight. Walk your hands a few inches forward and your feet a few inches back. Suck in your stomach and hang your head loosely. Hold for two minutes as you breathe deeply.
Warrior 1 will loosen the hips and put stress on the knees to strengthen them. Start in Downward Dog and lift your right leg off the ground. Make sure your leg is straight. Kick your right foot forward and go into runner's stance. Put your back foot down and slowly ascend your hands and chest until you're upright. Your hips and shoulder should be aligned. Hold for two minutes while breathing deeply and go back into Downward Dog to do the left leg.
Chair is the perfect exercise to work your glutes.  As your feet touch, raise your arms into the air. Drop your knees and sit back as if you were sitting on a chair. As you breathe, try to get so low that your thighs are parallel to the floor. Make sure your knees and thighs are touching Hold for two minutes or as long as possible as you breathe deeply enjoying the stretch.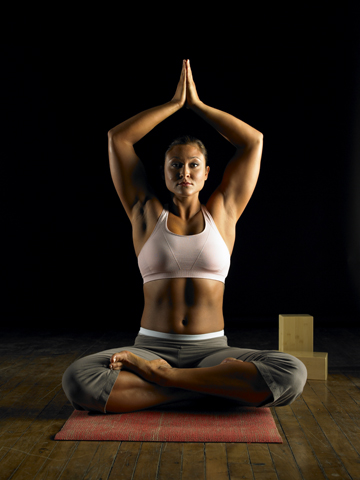 There are many people, all over the world, who participate in yoga as one of their daily exercise routines. Yoga has been around for many years and is a traditional physical, mental, and spiritual discipline that originating in ancient India. The goal of yoga, which many people may not be aware of, is to attain a state of perfect spiritual insight and tranquility. Yoga is also associated with meditative practices in Hinduism, Buddhism and Jainism, and is something that many people enjoy doing as a group. Many gym facilities incorporate yoga into the workouts they offer to their customers, and it has proven to be one of the most popular forms of exercise today.
Yoga has many different accessories that you are able to use to assist you in this workout. Whether it is a yoga mat, yoga straps, yoga blocks, or a yoga stretch board, these materials will drastically improve your workout and help you to achieve the results you wish. The goals of yoga vary depending on the person and the range of how much they want to improve their health. The main goal of yoga is actually to liberate oneself from all worldly suffering, and is described as entering the world again. Yoga is a routine that is easy to enjoy and is something that anyone can do. Unlike other activities such as basketball, soccer or general jogging, anyone at any age can participate in yoga and get something out of it.
If you are interested in yoga and all that it has to offer the mind and body, look into what your local gym facilities are offering and get enrolled in a yoga routine today. Despite what some people may think, yoga can be just as much of a workout as any of your typical sports would be, so don't hesitate any longer in experiencing what this exercise is all about.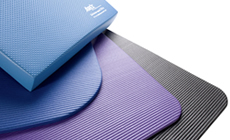 SPORTSMITH™ is proud to partner with AIREX®. We are currently carrying a wide variety of AIREX® sports and yoga mats. While we have long carried several of Airex's balance pads, wedges, and beams, we now carry several in their Yoga and Pilate's line of foam mats. Below is a sampling of what mats SPORTSMITH offers.
Exercise mat provides superb cushioning with a non-slip surface and mat is soft, warm and comfortable to the touch.
Uses:
Balance and stability programs
Agility gymnastics
Gymnastics
Aerobics
Exercise
Training
Fitness
Pilates
Yoga
Buoyancy of this mat is sufficient to keep an adult safely afloat while still maintaining contact with the water. Mat will remain flexible with body movements but prevents the patient from slipping off into the pool.
In water, this mat provides a safe and stable platform to enable a variety of physical activities in the hydrotherapy pool.
Exercise mat provides superb cushioning with a non-slip surface and mat is soft, warm and comfortable to the touch.
Use mat for exercise, physiotherapy, rehabilitation, training, balance and stability programs.
Buoyancy of this mat is sufficient to keep an adult safely afloat while still maintaining contact with the water. Mat will remain flexible with body movements but prevents the patient from slipping off into the pool.
In water, this mat provides a safe and stable platform to enable a variety of physical activities in the hydrotherapy pool.
Exercise mat provides superb cushioning with a non-slip surface and mat is soft, warm and comfortable to the touch.
Uses:
Balance and stability programs
Antenatal exercises
Physiotherapy
Hydrotherapy
Rehabilitation
Exercise
Training
Exercise mat provides superb cushioning with a non-slip surface and mat is soft, warm and comfortable to the touch.
Uses:
Exercise
Fitness
Pilates
Yoga
Buoyancy of this mat is sufficient to keep an adult safely afloat while still maintaining contact with the water. Mat will remain flexible with body movements but prevents the patient from slipping off into the pool.
In water, this mat provides a safe and stable platform to enable a variety of physical activities in the hydrotherapy pool.
Exercise mat provides superb cushioning with a non-slip surface and mat is soft, warm and comfortable to the touch.
Uses:
Balance and stability programs
Inlay in Bobath tables
Physiotherapy
Hydrotherapy
Rehabilitation
Exercise
Training
AIREX® mats are for indoor and outdoor use.
Rolls up for easy storage or transportation
Closed-cell structure, impervious to water
Hygienic through "Sanitized" treatment
Hard wearing and long lasting
Flat, non-slip surface
Easy to clean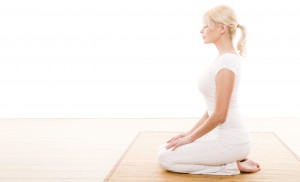 In today's tight economy, even the large "too big to fail" businesses need to find new and innovative ways to get new customers and maintain the customers they already have. Gyms and are no exception. In fact, with the rise in popularity of home exercise DVDs and home workout systems, gyms have to try harder than ever to maintain their customer base.
Yoga isn't one of those "flash in the pan" exercise programs that you hear about today and is gone in a month's time. It's an ancient system, over 5000 years old. Its original purpose was religious enlightenment, but today's modern Yoga is primarily an exercise regimen. Yoga has retained its popularity through many of the new "revolutionary" exercise programs and devices. Remember the Thigh Master? Tae-Bo? The list goes on and on. Every year new regimens and equipment come out touting to be the next big thing that will reduce the time and effort of exercise while seemingly costing more and more. The beauty of Yoga is that it's inexpensive in terms of equipment needed, and is a proven exercise method. Those things combined make it a great way to stay fit in a down economy.
One of the main positive aspects of Yoga that you can impress upon your members is its inexpensiveness. All a practitioner really needs is a Yoga mat and some appropriate clothing. Of course there are all kinds of equipment available, and any place that includes Yoga courses in its regimens should make this sort of equipment available for its members. This can either be "communal" equipment that any member can use, or you can offer certain pieces of equipment for sale as well. One popular method is to offer mats for members for free while other equipment, such as blocks and rollers, are for sale. This offers the basic equipment needed so new members aren't intimidated, while offering other options to your existing members. Of course, after a while almost all of your members, whether old or new, will want their own Yoga mat, so you should make these available for sale as well.
Press upon your members the effectiveness of Yoga. Its low-impact style means that someone averse to exercises like jogging and weight-lifting can get a full workout without the muscle and joint strain common in many exercise regimens. Almost anyone can perform Yoga, even overweight or injured members. Perhaps put together a video montage of various athletes who incorporate Yoga into their own daily exercise (gymnasts and swimmers are particularly fond of Yoga). Of course, a good instructor is essential here, but due to Yoga's current popularity, instructors should not be difficult to find.
Yoga's current popularity among athletes and celebrities is also a great selling point. While you should avoid highlighting so-called "fad" exercise regimens, don't undersell Yoga's current popularity. Many members will always be looking for what is "in" as far as exercise is concerned, and Yoga is most definitely "in".
Most any health club these days includes Yoga in their lineup. If yours doesn't, perhaps it's time to start! Everyone likes variety and options, and perhaps some of those members of your establishment would like to try something other than Pilates or Zumba. If that's the case, Yoga's slow pace and different mindset might make the perfect alternative.
Save Up to 30% on Yoga Products from SPORTSMITH!!!
Did you know that SPORTSMITH stocks a variety of yoga products? Visit Sportsmith to view our special offers and quality discounts on yoga products.
SPORTSMITH 5925 S 118th E Avenue, Tulsa, Oklahooma 74146 | 1.888.713.2880 | www.sportsmith.net
Recently modern scientists and researchers have begun delving into the health benefits of an exercise program that's over 5000 years old. That program is Yoga. Every day it seems that some new benefit is discovered, but here are the ones that are most important, and the reason most people take up Yoga in the first place.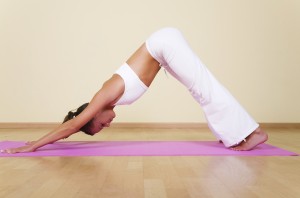 FLEXIBILITY
This is probably the greatest and most obvious benefit of Yoga. The postures and positions (called Asanas) that Yoga places the body in will lead to much greater muscle and joint flexibility. For many years now, professional gymnasts and other athletes have used Yoga to help their overall flexibility and agility, and with Yoga's current popularity, many others are now discovering the heightened muscle movement that comes from the exercises.
STRENGTH
Not only will Yoga make the body more flexible, it will also add more strength to the muscles and tendons. Again, many professional athletes perform Yoga to aid in their daily exercise, and bodybuilders and weightlifters are no exception. Keeping the body in certain positions for a certain period of time will strengthen the body. This has been known for thousands of years, by many cultures. Tai Chi Chuan, the traditional Chinese martial art and exercise form, uses a similar philosophy; maintaining prescribed positions for a period of time to strengthen muscles.
STRESS MANAGEMENT
While all the benefits of Yoga may truly never be known, this is one that anybody who's ever practiced it will attest to. Yoga induces a feeling of inner calm and peace. Of course, this is what the traditional Yogis (one who practices Yoga) were aiming for, as Yoga was originally a religious path to enlightenment and inner peace. While modern Yoga focuses mostly on the exercise and health benefits, the other, less easily defined benefits still remain. Yoga is a perfect exercise for today's busy lifestyle. We all need to manage the stress of daily life in some way, and what better way than something that will not only give you exercise and energy, but also calm and de-stress you in the process!
MUSCLE TONE
We all want to look good, that's a given. There are literally thousands of exercise programs designed to help us burn fat and get in shape. Yoga practitioners have known of its toning properties for literally thousands of years. Along with a sensible diet, Yoga has been proven to burn fat and tone muscle, sometimes far more effectively than many of the "fly by night" exercise programs that seemingly pop up daily. While you won't acquire the massive body of a bodybuilder, Yoga will help you to acquire a sleek, much more natural body tone than weightlifting will. There are even varieties of Yoga now that are considered "high intensity" that put the heart into the "fat burning zone", and will help with weight reduction and fat loss.
PAIN REDUCTION
Many physical rehabilitation facilities are beginning to incorporate elements of Yoga into their exercise and training regimens. This is because Yoga has a bodily healing effect. While someone with an injury might not be able to perform all of the positions, some of even the most basic positions have a therapeutic effect on the body. This is especially true with upper and lower back pain, something that literally millions and millions of people suffer with daily. Yoga stretches and works muscles that might otherwise go unexercised, and those muscles in turn help to strengthen muscles and tendons that are strained or damaged in some way. Definitely check with your doctor before starting ANY exercise regimen when you are physically injured, however.
POSTURE
This is something most of us have trouble with. How many times when you were younger did your mother tell you to "sit up straight"? Well, Yoga can help you do just that. You will gain a greater understanding of your body's overall posture, and the positions help keep muscles responsible for good posture strong and supple. You will slump your shoulders less, and you will come to understand your body's center of gravity and how to maintain that center at all times, whether seated or standing.
HEIGHTENED ENERGY LEVELS
Most of us in today's busy world need an energy boost now and again. Whether this is something artificial, like caffeine, or something natural, like the energy you gain from eating a piece of fruit, is a personal choice. Yoga gives you extra energy to get through your day without having to resort to outside means. Imagine being able to get through a hard day without those extra cups of coffee or cans of soda? Not only would that save you money, its overall better for your health. The fewer artificial things we ingest, the better!
PSYCHOLOGICAL BENEFITS
Doctors have long known that mental health is at least as important as physical health for a person's overall well-being. Many Yoga practitioners report that after an exercise session, they experience a feeling of calm, peace, and overall harmony and balance. Yoga's original purpose was as a path to religious enlightenment, and mentioned earlier, some of the less defined benefits still remain. Though modern Yoga's purpose is for exercise and bodily health, the psychological benefits cannot be denied.
EASE
Yoga is quite easy to perform. Unlike many exercises today that focus on elaborate equipment, large and clunky machines, or require a radio to blast loud music, Yoga needs only a scant few things for a person to practice it effectively. A "sticky" mat that allows you to maintain the positions without slipping is really all that is required. Some people need what are known as "Yoga straps" to help them maintain some of the more difficult positions as well. Both of these products are inexpensive and easily transportable and storable. While other products do exist, such as rollers, blocks, mats and gloves for the hands and feet to prevent slipping, they are all optional. The term "user friendly" certainly applies to Yoga, as almost anyone can do it, and the things you require are minimal.
BALANCE AND CORE STRENGTH
Recently, scientists and exercise professionals have discovered that having a strong "core" is essential to having a strong body. The "core" muscles work to support and stabilize the spine, pelvis, and abdominal region. Many exercise programs have been developed with strengthening these particular muscles as their primary focus (Pilates currently being the most popular). Yoga exercises these muscles along with other muscles, so you essentially get a workout that combines the best elements of other exercise programs. Since many of the positions also require you to balance the body in certain ways, Yoga will also help with learning and maintaining overall body balance. This benefit in particular is why many gymnasts perform Yoga regularly, as balance is essential to their sport.
The benefits of Yoga are many, and the ten listed here are just a sample of what Yoga can do for you, both physically and mentally. Of course, consult your instructor if you have any questions or concerns about what benefits you might gain from performing Yoga regularly.
For thousands of years, practitioners have used mind-body exercise such as yoga as a great stress reliever while strengthening, toning and increasing flexibility. Today, yoga is more popular than ever—even outside of the studio. Increasingly, personal trainers, fitness professionals, and fitness-minded exercisers are incorporating yoga moves and equipment into their routines.
Try adding the following to your fitness routines and yoga practices:
Warrior II:
This is a great yoga move to strengthen legs and glutes, improve postural alignment and core strength and to stretch adductors.
Standing with feet a leg length apart on a sticky mat (to improve traction and provide some cushioning), turn your right foot out 90-degreesand the left foot 45 degrees. Keeping the pelvis level, bend the right knee so that it is directly over the ankle, with center of kneecap aiming toward the 2nd and 3rd toes. Keep your weight even on both legs and your torso vertical, contracting the abs and pressing the shoulder blades down and back to work the core. Keeping your base solid and pulling your abs in and up, extend the arms out to the sides and focus your gaze over your right hand. Breathe evenly through the nose and start out holding the pose for 10 breaths, increasing the amount of time with experience. Repeat on the other side and evenly train your body.
Downward Dog:
Perhaps one of the most recognized yoga postures, downward dog is a great way to strengthen the whole body, build functional strength, and stretch the hamstrings and calves. Begin by getting on your hands and knees, with your hands six-inches from the front of your yoga sticky mat. Place your hands under shoulders and knees under hips, spread fingers wide and press every knuckle into floor. With your inner-elbow creases facing forward, draw the shoulder blades down the back. In one smooth motion flatten the spine, tuck the toes under and lift the hips up and back while straightening the legs—forming an upside down "V" over the sticky mat. In this position reach the heels toward the floor, pull the inner thighs up and back as you lengthen through the waist. Try to bring the weight into the legs, keep the palms pressing into the mat and let the head hang to relax the neck.
Yoga Block:
If your hands can't reach the floor during standing forward bends or any yoga pose, a yoga block is an invaluable tool. By bringing the floor closer, users can maintain proper form and reduce the risk of injury.  Yoga blocks can also be used to help keep knee and feet alignment during bridges, leg presses, stability ball squats and more by placing the block between the legs (just above knees) while performing the exercises.
Yoga Straps:
Yoga straps are crucial for beginners and are a very helpful tool for more advanced yoga practitioners and fitness participants. By increasing one's reach they help to advance strength and flexibility and while performing static stretches, such as a supine straight-legged hamstring stretch. Yoga belts can also be looped with the buckle to support upper-arm placement in poses such as planks, downward dog, scorpion, back bends and more.
This Article is for information purposes only. Exercisers should seek the advice of a qualified personal trainer before attempting any exercise.