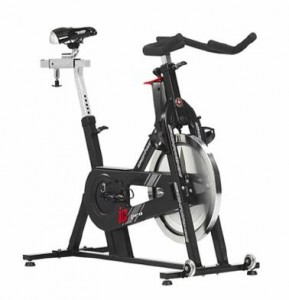 Keeping your spin bikes up and running smoothly requires a daily, weekly and monthly maintenance schedule.  This will help save time, money and will help keep your spin bikes running at optimal performance resulting in happier customers for your facility.
Tools and supplies needed:
Tool kit with various wrenches, sockets and screw drivers.
Lubricants such as silicon spray and chain wax
Daily Maintenance:
Once spin bike classes are finished this is an optimal time to wipe all the equipment down. Sweat is very corrosive and may cause long-term trouble for parts replacement later in the month. Wipe down the seats, frames and handlebars to remove excess sweat from these areas.
Pay special attention to the seat post; handle bar post and chain guard.  Next, get on the bike, engage the drive train, and pay attention to any vibrations felt through the pedals.  If vibrations are felt, you may need to tighten the pedals, bottom bracket, or adjust the drive chain tension. Lastly, you should torque the pedals. You will need a pedal wrench.  Tighten the pedals until they are secure.
Weekly Maintenance:
Weekly maintenance requires tightening down hardware and inspecting various moving parts. Inspect the pull pin frame fittings making sure the fittings are snug. Loose frame fittings over time may strip out the threads causing sever damage. Second, clean and lubricate the pull pin assemblies by pulling on the pin spray a small amount of lubricant onto the shaft. Third, torque the seat hardware making sure the seat is level and centered.
Fourth, brush and treat the resistance pads.  Remove any foreign material that may have collected on the pads and spray the pads with a silicon lubricant.  This helps in reducing noise caused from friction between the pads and the flywheel. Finally, visually inspect the bottom bracket, top clips and toe straps.  If any of these items are loose or disconnected re-attach and re-tighten.
Monthly Maintenance:
Monthly maintenance is a time for re-lubricating most moving parts and a basic hardware check. First, recheck all hardware such as water bottle holders, flywheel nuts, chain guard bolts, brake caliper lock nuts and brake caliper tension rod nuts are secure. Second, lubricate the drive chain.
This is accomplished by using the red straw on the chain wax can and looking for a small hole towards the back of the chain guard on the top side. Rotate the crank slowly while lubricating the drive chain. This will help to distribute the lubricant more effectively. Third, clean and lubricate the brake tension rod while inspecting for signs of wear such as missing threads.  Finally, clean and lubricate the seat post, handle bar post and seat slider removing any build up of foreign material at the point of insertion.
In summary, this is only general information about maintenance items that should be performed on a daily, weekly and monthly basis.
A qualified technician should perform any maintenance procedures. Always check your manufacturer's recommendations and maintenance materials before performing any work on the equipment.
Additional Resources: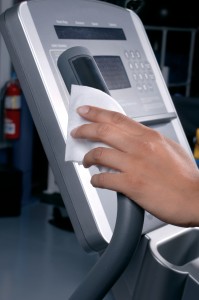 People who care about fitness should care about influenza. Seasonal flu is a serious problem every winter, and the current trends for the 2014 flu season show influenza on the rise. It can spread quickly anywhere a crowd gathers.
Even a light case of the flu can make life miserable for more than a week, spoiling work, workouts, and play. Yet it is possible to fight the spread of flu.
Protect your members from:
•Flu complications
•Flu downtime
•Lasting lethargy and sub-par performance
Health clubs and fitness centers are especially vulnerable to the flu, because the members all share the same equipment, and often everyone grabs it in the same place. Nobody wants to take the time to worry about germs, but they appear each flu season, and a swipe with a personal terrycloth towel will not wipe them away
The Problem
Germs spread easily where people spend time close together, and people can spread the flu and many other illnesses before they even feel sick. As the CDC says, "Most healthy adults may be able to infect others beginning one day before symptoms develop and up to five to seven days after becoming sick." Flu virus survives on surfaces too, according to the United States Centers for Disease Control. Yet a few simple precautions will keep your gym from being "Where I got the flu."
How do you fight influenza? Fitness helps people stay well, but so does hygiene. Providing wipes and towelettes shows athletes that you are looking after their health and safety, and protecting everyone from a disease that can spread like wildfire. Clean and sanitize all the surfaces your athletes touch, to look out for the members of your fitness facility.
The Solution
The three sanitation concerns for fitness facilities are exposed skin, hard surfaces, and soft surfaces. Sportsmith provides solutions for all three.
1.  Anti-Bacterial wipes contain a gentle effective sanitizer especially formulated for use on the body. It smells effective but not strong, and dries quickly, leaving skin feeling fresh. Making wipes available is one easy way to prevent the spread of influenza and other infections among your members:
• Use on hands, arms and legs, wherever you touch equipment
• Safe and effective on facial skin
2. Disinfecting towelettes clean hard surfaces. They kill viruses, fungus and bacteria, including staph. This product is gentle enough to use without gloves, yet highly effective. Use on:
• Metal
• Plastics
• Laminates
• Rubber
• Plexiglass
Flu complications can include pneumonia, meningitis, and encephalitis. These are all rare. However, downtime from the flu is common. Influenza takes its victims out of action for up to ten days, and sometimes longer.
Even when someone gets over the flu, they may still not feel completely back to normal. It can take months before an athlete functions at peak again. Influenza and other viruses can really put a dent in performance.
Protect your members from the flu and many other contagious diseases, and keep your facility sparkling. Take care of your members, with economical body wipes, towelettes, and cleaning wipes from Sportsmith. Your members will know you care.
Additional Resources:
Unfortunately, everyone has to deal with being sick. It usually hits at the most inopportune times. This holiday season, along with decking the halls, protect your club members against all sorts of illnesses with some of the effective anti-microbial products that we carry.
Fitness Equipment Cleaning Wipes
By far our best selling wipe (and one of our best selling items overall), this box contains 2 rolls of 900 sheets each. These wipes clean and deodorize and are alcohol free. They come in sealed bags. So just pop a roll into a dispenser (see below), and you're all set. They are designed for use on gym equipment, and are safe for most any surfaces.
These alcohol and lint free hand wipes come with 4 sealed packages per case, 800 sheets per roll. These are FDA approved wipes that are a great way to prevent the spread of germs and bacteria. They won't dry your hands out, and smell fresh and clean.
WIPESPlus Surface Disinfecting Wipes
As with several other wipes we carry, these are alcohol free. Useful for more than just equipment, these wipes come 4 packages to a box with 800 sheets per roll. Intended as an all purpose wipe, these can be used on any surface that potentially dirty hands touch, including counter tops, doorknobs, and most gym equipment. Kills a wide variety of microbes, including the virulent staphylococcus aureus and several types of influenza virus, even destroys certain types of fungus. Don't be left defenseless against the ravages of these types of nasties, folks. Defend yourself with these low priced bug killers.
Featuring the same anti-microbial power that's in Purell hand sanitizer, these convenient wipes destroy 99.9% of all common germs that cause illness. Packaged in a convenient, transportable bucket, just pop the top, get what you need, and replace the air tight lid. We also carry refills for the bucket once you run out. These are ideal for workplaces, gyms, offices, anywhere large groups of people gather. 1200 sheets per roll. NOTE: Due to this product containing Isopropanol alcohol, they CANNOT be sent via air. Ground shipping ONLY.
We also carry a dispenser in which to put our various lines of wipes. In addition, we also carry a floor stand to put the dispensers in. No need to look in a hundred different places for what you need!
Tools Needed: Ohm Meter
Most potentiometers have three connectors. Two are the total and non varying resistance of the potentiometer, referred to as ends. The third is the variable resistance, referred to as the wiper.
If it is unknown which connections are which you can perform the following tests and determine their location.
Ensure that the meter being used for testing is equipped with a range capable of testing the potentiometer in question. Remember to always set your meter to one range higher than the component being tested. The potentiometer used in our video is rated at 1000 ohms or 1k Ohm, so we will be using the 2k setting on our meter.
If any of these tests results in an open or no reading the potentiometer is bad.
When taking a reading from either of the two ends and the wiper you should get a reading equal to the adjustment of the potentiometer. This can be verified by having someone adjust the potentiometer while taking a reading.
When taking a reading from the two end poles you should get a reading equal to the potentiometer's rating, as is the case in our example, 1000 ohms or 1k ohm. This reading should only vary slightly if any when the potentiometer is adjusted.
For more info click here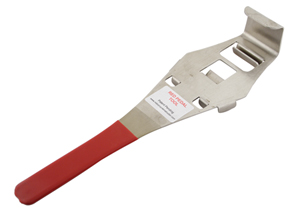 Are you an indoor cycle instructor or a spin enthusiast that is tired of wrestling with the removal of the toe cage found on the popular Schwinn Triple Link pedals? You know what kind of headache it is to remove the shoe clip before a class so the pedals are ready for LOOK or SPD shoe cleats.
Now there's an easier way with the Red Pedal Tool. No more delayed classes, bruised knuckles, or broken pride. With the Red Pedal Tool, Triple Link pedals can be removed safer and easier from your indoor spin bike.
The Red Pedal Tool eliminates the hassle instructors or members face when removing the toe cage used for regular running shoes to make pedals SPD or LOOK compatible.
Save water and energy without sacrificing the performance and shower experience we all expect everyday. That means money in your pocket and smiles on the faces of your club members.

Save Money & Energy
Turn Your Showers Into Green Money Saving Machines!
Oxygenics® showerheads are an eco-friendly product, which saves water, energy and money. Join health clubs nationwide in their green iniative by upgrading to the Oxygenics® showerheads that help them save money and the enviroment. Health clubs are already making a substantial reduction, in both water and energy, without sacrificing performance by using these showerheads.

Eco-Friendly Water and Energy Saving
Zero maintenance required,
install it and forget it
One Time Investment
Commercial Grade Quality
Testimonial
"The Washington Athletic Club in Seattle saves in excess of $75,000 per year in water and sewer costs by using the Resort Spa® showerhead. Adding in the reduced cost as a result of heating less water for showering and our savings reach 6 figures."
Andy Voogd, Building Operations Manager
Washington Athletic Club

"Out of service" signs are bad for business. Routine preventive maintenance minimizes down time, extends equipment life and reduces your possible liability. You save money on parts, repairs and keep your clients happy.

Cleanliness and lubrication are perhaps the two most important factors in equipment maintenance and longevity," reports Brad Schupp, SPORTSMITH president. "Whether you have a few pieces of equipment or a hundred, following manufacturer guidelines for service, cleaning and lubrication optimizes equipment performance and significantly extends its useful life."

Perspiration is a major corrosive force, so constant attention is required to minimize damage. Your equipment should be cleaned after each use with equipment wipes, especially those parts in contact with exercisers (grips, seats, pads and consoles).

If you make the cleanser and towels, available many exercisers will clean as courtesy to the next user. Be sure to read cleanser labels thoroughly and consult equipment operations manuals to avoid any harmful materials.

"It is wise to establish a daily cleaning routine backed by a weekly and monthly maintenance schedule. Create an inspection checklist numbering each piece of equipment to keep an accurate log," says Schupp. "Cardiovascular equipment requires more frequent maintenance, especially indoor group exercise cycles and treadmills. All your indoor cycles should be tuned on a weekly basis to assure optimum and uniform performance. Worn grips, seats and pedals should be replaced immediately."

Regular inspections help prevent damage to equipment drive systems and electronics, which are the most costly items to repair. To reduce downtime it is wise to stock OEM-quality replacement parts for the most common repairs. Depending on your equipment, these include belts, chains, pedal straps, strength cables, pulleys, pads and grips. Although cardiovascular equipment requires the most attention, be sure to keep your strength equipment guide rods lubricated and replace pulleys and cables at the first signs of wear.