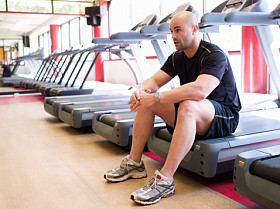 When exercising, it is important that you make sure you have all of the proper first aid equipment to ensure the safety of your health.  When working out, your endorphins are flowing, your heart is going a mile a minute, and you're feeling the best you ever have.  However, things can go wrong no matter where you are working out or what kind of exercises you are doing.  It is always more beneficial, however, to work out with other people in case a situation presents itself where you need help from someone else.  For gym owners, it is important that they stock up on the necessary safety items for their current and future customers.
Some of the first aid supplies that gym owners will want to make sure they have include ice packs, elastic bandages, antiseptic, pain relievers, surgical tape, and gauze.  Alongside all of these items, many gyms make it a point to have a defibrillator in stock as well.  A defibrillator is an electronic device that administers an electric shock to the heart through the chest wall, in an attempt to restore the normal rhythm of the heart.  Going into cardiac arrest during a workout is, unfortunately, not uncommon.  Whether you are doing aquatic fitness exercises or aerobic step workouts, there is always that chance that your heart might not be able to take the amount of activity you are putting it through.  Therefore, having an Automated External Defibrillator is a crucial element that every gym facility should make sure they have readily available.  It's always better to be safe than sorry.
Exercising and eating right is vital when trying to take care of your body and your health.  However, sometimes the effects that stress and poor habits have on your body, can weaken it, causing unexpected injury as well as cardiac arrest.  It is suggested that you consult with your doctor before doing any type of straining physical activity, so keep that in mind as well before you jump on that next treadmill.  Having these supplies and more, available in your gym, is a beneficial step to take to ensure everyone's safety.