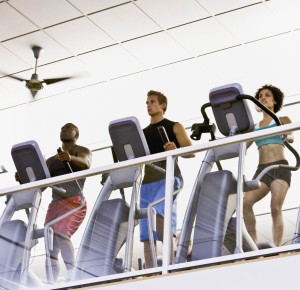 You probably know as a health club operator that it's easier to keep a customer than to pick up a new one. Your current client base already knows where you are, how you operate, the membership fees and what you generally have to offer to them. Making a switch takes a lot of effort and a disruption in their routine; however this advice is often lost to owners because they're far too focused on expanding business as opposed to keeping it. You don't have to make big gestures or a huge 'thank you' statement, but you should have a general idea of what exactly keeps them coming back into your doors.
Their primary goals in staying with a health club doesn't appear to be what you can do for them, the crucial factor is about what they can do for themselves. In this way, you just need to be the best possible vessel for them to reach their goals.
In this four part series we will examine ways you can use member interest to bolster your bottom line. Be sure to Subscribe to receive the upcoming articles in this series.
So let's look at the top 12 reasons stay at a health club, so you can make the right choices when trying to entice them to keep their membership with you.
Toned Bodies
They already have seen what their history with you has done for their bodies. They've seen the results and just want to keep those results. Giving them constant reminders that simply by walking in the doors again and again, they immerse themselves in the idea of keeping their bodies as pure and strong as possible. They are likely already addicted to the endorphins, so it won't take much to please them so long as you keep giving them a reliable place to exercise.
Their Overall Health
These people aren't necessarily looking to win any beauty pageants. They just know how important it is to exercise, so they continue to come back to a place to keep their circulation, cholesterol and body fat in check within the recommended levels. Offer them information about the importance of exercise on every aspect of their health, both body and mind. They already know it, but since that's why they continue coming, it doesn't hurt to remind them.
Location, Location, Location
People value convenience often much more than they let on. If you're in a place where people can easily find you or you're naturally in the middle of a large city, you have a huge advantage of both gaining the initial business and keeping it. As anyone in real estate can tell you, picking the right place for your business could make or break your future. It doesn't mean that if you find the perfect place you can just sit back and watch the money roll in, it just means that you're giving yourself a head start.
Great Equipment to Target Different Areas of the Body
Having the right machines mean that you're giving your customers the means to get their workouts done faster and with fewer risks of injury. They'll work smarter and not harder with machines which help them with both their cardio workouts and cross-training efforts. Stress the benefits of each machine, and let them know that your club is set up to help a variety of different purposes. Some people want bigger arms, or a bigger butt. Tailor the information you give out to each person, or post a comprehensive and easy-to-read list by the machines. They'll appreciate being able to utilize your equipment in the most effective ways.
They Came to Work, Not Make Small Talk
Working out with friends or joining an exercise club may be the only way for some people to stay on track. Others just want to be anonymous so they can workout and then get out. They come here so they won't have to spend time making small talk and awkwardly wondering if it's all right to just walk away from a conversation so they can finally tackle the next 10 reps they have to do before they have to get back to work. You can't do anything about customers who might chat them up, but make sure your staff knows who these people are so they give them every out to get back to their routine.
Personal Goals
Your customers can't control how people feel about them at work or at home. They can only strive to be a better person in all that they do. Going to a health club means that not only are they trying to do the right thing, they're actually succeeding in it. This is one way they can feel good about themselves that they can depend on. They know that they've done something good for themselves by exercising and staying on track. You should be encouraging for this crowd, but not too demanding of them. They may not need a new goal every week.
The Classes
Offering a wide variety of classes from Yoga to Spinning to Advanced Cardio means that you're appealing to the different types of people who may frequent your club. Sometimes learning and being coached through new moves can only be done by a qualified teacher, and if they don't have enough funds on hand to pay someone to do it one on one, this is the only way to get that tutorial. Also, you should really take some time in picking out the instructor for the class since that's going to make all the difference in whether or not people want to sign up.
Fun
Ok, it's a little buried here, but exercise is supposed to be fun! All those chemicals being released make you feel alive and invigorated about your day. Upbeat music, smiling faces and great attitudes all just make people want to come back again and again to feel good.
Their Friends and Family Go There
Endorsements mean the most coming from someone you know. If their loved ones already attend the club, then they're more likely to stay in a certain area. However, it's not a coincidence that all these people who know each other are all in your club. Impress your current customers, and their comments will go farther than any marketing campaign ever could.
The Professional Fitness Staff
Everyone knows that personal trainers come at an additional cost, but sometimes just having access to knowledgeable, means that people are more likely to stick with their personal fitness goals. When you hire your employees, take into account not just how much they know, but also how well they're likely to interact with your customers. People should feel comfortable in approaching them with questions, comments and concerns.
The Social Aspects
Ok, so some people do go to a health club to be able to meet with other people and share tips. Keep in mind that it's nearing the list, but it's definitely still a factor. Some people may just be encouraged to see other people working out. They know that if they're the only one who can't keep up in a class that it will motivate them to get better so they won't have to look like the outcast.
The Money
They've already paid you at this point, so why not go? Some people need to make that investment first. It's not a terrible strategy, and not necessarily a reason you need to shy away from when you interact with them. Some people don't want to hide behind the fact that they want to stay healthy. It's entirely possible that they simply know that they have to exercise, they'll hate it every stage of the way and they need an external force helping them to complete their goals.
For whatever reason your customers keep coming back to you, keep an open mind and try to work approaches to your existing client base to meet their needs.
SPORTSMITH™ has been supplying fitness equipment parts and fitness products to health clubs for 20 years, and by keeping up with the trends and technologies we have kept our customers engaged and satisfied with our customer service and wide array of products. Click here to learn more about how we can help your health club stay current and well stocked!
Did You Enjoy This Article?
Subscribe Now and Enjoy These Benefits
Stay Up to Date on the Latest Fitness Equipment Maintenance Trends
Get Exclusive Money Saving Offers on Fitness Equipment Parts & Fitness Products
Be the First to Know About New Products
No Spam, No BS
Survey source The 2015 IHRSA Global Report
Comments
comments