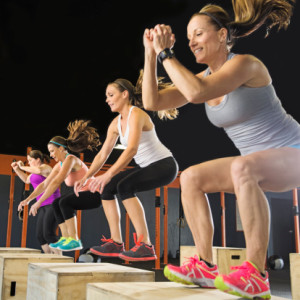 The verdict is in on this year's top fitness trends. It's clear from the new list of fitness trends that people are turning back to the basics and becoming more concerned with overall health, rather than just appearance.
1. Body Weight Training
Body weight training took the number one spot for fitness trends in 2015. This type of exercise is growing in popularity because it is both inexpensive and requires little to no equipment. This no-gym-required type of workout includes exercises like:
Push-ups
Squats
Pull-ups
Handstands
Planks
2. HIIT (High-intensity Interval Training)
HIIT workouts were the top trend last year and are still a popular workout option in 2015. This type of workout has maintained its popularity among the fitness-minded because it's an excellent way to burn fat. In HIIT workouts, short bursts of intense activity are designed to get the heart pumping hard, then these short bursts of intense exercise are followed by a period of rest or recovery. The benefits of HIIT workouts include:
Increasing the body's metabolism rate
No special equipment is needed
Intense workouts in under 30 minutes
Increased endurance
Recovery time means rewer injuries
3. Utilizing Certified Fitness Professionals
With so many different exercise styles circulating around the Internet, it's no wonder that people are turning to certified professionals when it comes to workouts. The benefits of seeking out professional advice or direction for workouts include:
Avoiding exercises that can cause injury
Learning the most effective types of exercises for particular goals
Increased motivation
4. Strength Training
Strength training offers a lot more than just a muscular physique. This one makes it into the top five trends for 2015 because of all the benefits fitness junkies can derive from it. By focusing on working and strengthening specific muscles in the body, strength training helps exercisers to:
Increase bone density
Help control weight and burn fat
Develop endurance and balance
5. Personal Trainers
The use of personal trainers in on the rise as people realize that not every workout works for them. A personal trainer works with an individual to accomplish specific fitness goals in the most effective way. Using a personal trainer is a great way to remain motivated to keep up fitness goals too.
6. Exercise for Weight Loss
Fitness and exercise are becoming more central to weight loss plans. This trend in fitness comes about as people realize that fad diets just don't do the trick for real, lasting weight loss. According to WebMD and the CDC, exercise is the only sure-fire way to keep the weight off after it has been shed from the body. Exercise helps maintain a healthy body weight by:
Controlling calories
Increasing metabolism
Increasing energy
Curbing feelings of hunger
7. Yoga
Yoga has been a fitness trend for several years now and has maintained its spot in the top 10 fitness trends for 2015. Yoga is a great total-body workout that can be relaxing and enjoyed by those of any fitness level or age. Yoga comes in many varieties and some of this years top trends within yoga include:
Tantra Yoga
AcroYoga
Live Music Yoga
Hot Barre Yoga
Yoga Pole Dancing
8. Workouts and Exercise Programs for Older Adults
It has become clear that exercise is crucial for maintaining health as people age. With this in mind, fitness professionals and gyms have developed more programs that are geared towards serving an older generation of exercisers. For older adults, exercise helps to:
Reduce blood pressure
Reduce the risk of diabetes
Improve stamina
Reduce depression and anxiety
Maintain bone density
Increase coordination
9. Functional Fitness
As the name would suggest, the trend of functional fitness makes everyday activities easier. With a large number of people working in sedentary conditions, functional fitness plays a big role in getting people to the point where lugging a baby up the stairs or moving furniture around the house isn't so difficult. Functional fitness exercises work to help:
Muscle groups work together
Balance the body
Find and improve on weaknesses
10. Group-Style Personal Training
Because hiring a personal trainer can easily burn holes in wallets, many people are adopting the number 10 trend on this list: group sessions with a personal trainer. Getting together with a friend or two and seeking out a personal trainer willing to work with a small group can be a great way to cut the price tag and still reap the benefits of personalized instruction.
SPORTSMITH™ has been supplying fitness equipment parts and fitness products to health clubs for 20 years, and by keeping up with the trends and technologies we have kept our customers engaged and satisfied with our customer service and wide array of products. Click here to learn more about how we can help your health club stay current and well stocked!
Did You Enjoy This Article?
Subscribe Now and Enjoy These Benefits
Stay Up to Date on the Latest Fitness Equipment Maintenance Trends
Get Exclusive Money Saving Offers on Fitness Equipment Parts & Fitness Products
Be the First to Know About New Products
No Spam, No BS
Comments
comments