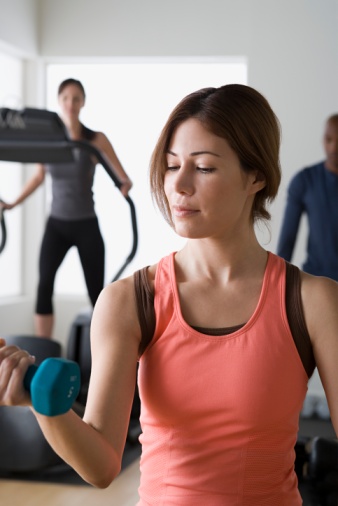 Working out at home is becoming one of the most common ways people go about getting into shape and loosing weight.  The are many advantages to working out at home, for instance, its comfortable, private, and everything is yours.  One of the keys to having a good, successful workout is the type of products you are using to work out.  Also, depending on what area of your body you are targeting, you want to make sure that you have exactly what you need in order to get the job done.
Listed below are five MUST have home workout tools.  How you use them and when you use them are completely up to you, but in order to get a successful and rewarding workout you will need these items, at least.
Exercise balls, also known as stability balls, are used for many different workouts and exercises.  Those include aerobics, balance, flexibility, strength rehab, stability, and toning.  All of these exercising come down to core training and with the many different types of exercise balls, such as medicine balls and weighted balls, you will be sure to get in a good core workout.
Resistance bands can be used as a substitute for all kinds of expensive home gym machines.  These bands come in all shapes and sizes and go by many different names including stretch bands and resistance cords.  You can work on all different muscles groups from your upper body to your lower body.  Another object that these resistance bands substitute for are pull up bars.  All though you cannot actually lift yourself off of the ground with these bands, you can simulate the exact same back and chest workout that you would get from a pull up bar.
Weights are a must have.  Whether you have them in the form of kettle bells or dumbbells, they are a requirement for upper and lower body success.  Although the kettle balls allow for swinging moves that you cannot easily do with regular dumbbells, they both come in all shapes, colors, and sizes.  Find a set that fits you, because having your own set will allow you to make progress weekly or daily depending on how often you work out.
Plyometric boxes are key for the success of an awesome leg or lower body workout.  Simple routines that are performed by using these boxes or steps prove amazing results.  Plyometrics steps and boxes come in different heights for different people.  It is about challenging yourself to the burning repetition of a leg workout and looking forward to the end reward.
Finally, everyone needs a little cardio love.  Whether you prefer a treadmill or an elliptical, you need to get your cardio workout in no matter what.  Both machines are commonly used and it is more a personal preference.  Regardless, they can be used for a therapeutic workout, a warm up, or a cool down.
Remember, these are only five of many different workout products.  These are simple and will get the job done especially for being at home.  They also won't cost you an arm and a leg like many of the big home gym machines out there.
By possessing these must have products, you can significantly get into shape and loosing weight and bettering your health is what it is all about.  Bettering your health not only includes medical conditions, such as blood pressure and metabolism, but also personal conditions such as getting rid of acne and improving your physical appearance.  Whatever the reason may be, having these five workout products can improve you health tremendously.
Comments
comments