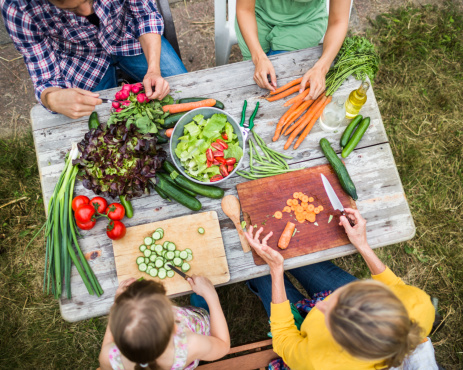 As the health and fitness industry has grown into a multi-billion dollar sector, the market has been flooded with so much information that it has become virtually impossible for the average consumer to make sense of everything. Diet books and websites with conflicting advice are popping up with unrelenting frequency, and information from government agencies can be just as confusing and unhelpful. These 15 straightforward tips will clarify what you need to be doing with your diet and put you on the fast-track to a healthier lifestyle.
Portion Control
The number one tool that will help you eat more nutritiously is a digital food scale. While you can approximate portion sizes using your hand, digital scales are remarkably accurate, and decent models can be purchased for about $30. Keep in mind that some restaurants serve 8-12 ounce portions of meat in a dish! Keep it to approximately 4-5 ounces per serving and you'll immediately reduce your calories and fat significantly.


Utilize Superfoods
Superfoods pack an incredible amount of nutritional benefits into one serving, and many of them are delicious as well. Sprinkling chia seeds on your morning yogurt will yield a wealth of antioxidants. Adding avocado to a fresh salad will provide an indulgent flavor and rich texture, complete with beneficial omega-3 fatty acids. Swapping out lettuce for kale in a salad will give your lunch some much-needed fiber.
Cook as Much as Possible
Going out to eat with loved ones is a great way to spend an evening, but cooking most of your meals yourself is a foolproof way to eat healthier. It's simply too easy to fall prey to giant portions and rich, fatty foods in restaurants. Cooking at home allows you to control every aspect of the meal from the ground up. Save a meal out for an occasional treat and try to avoid the fast-casual chain restaurants that are notorious for packing a day's worth of calories into a single dish.
Don't Drink Your Calories
Sodas are nothing but sugar bombs that don't provide any nutritional benefits and won't help you feel full. Recent studies are showing that even diet sodas are made from chemicals that may be harmful, even while being calorie-free. Limit your beverages to water, unsweetened tea, and black coffee. And unless you're a professional athlete burning thousands of calories a day, sugary sports drinks should definitely be avoided.
Read Nutrition Labels
During your next trip to the grocery store, pay attention to the federally mandated nutrition labels on the back of every packaged food; you might be unpleasantly surprised to find out what's in your staple items! Look for ingredients that are high in protein and fiber, and low in saturated fat and sugar. Be aware that while the total amount of sugar is listed on the label, the amount of sugar as a percentage of the daily recommended allowance is not required.
Fill up on Fiber
Fiber is one of the most crucial nutrients in a healthy diet; it helps regulate the digestive system and, as an added benefit, it helps you feel full for longer. Eating a diet rich in fiber means you'll be less likely to binge on unhealthy snacks later on. Beans are an excellent source of both fiber and protein, and the brassicas family of leafy green vegetables (including kale, broccoli, cabbage, and Brussels sprouts) is teeming with versatile, flavorful options as well.
Be Judicious with Good Fats
For most of the 1980's and 1990's, fat was demonized as the foundation of unhealthy diets in America. Recent science has shown us that some fat in our diet is both necessary and beneficial. Saturated fats, abundantly found in red meat, should be eaten sparingly. But healthy, monounsaturated fats found in ingredients like olive oil, nuts, and fish should be a part of your daily routine.
Avoid Processed Foods
Focus on purchasing ingredients that look as close as possible to how they did when they came from the farm. Processing plants rely on things like extra salt and preservatives in order to reduce spoilage and maximize profit. These tricks are for the benefit of their bottom line, not your health!
Indulge Occasionally
If you constantly feel like everything you want is being withheld, you're far more likely to fall back into bad habits. Every once in a while, enjoy something just because it tastes great and ignore what nutritional benefits it may or may not provide; just remember that portion regulation is your friend. Have a small steak or a serving size of cheese and augment it with an abundance of fresh, calorie-light fruits and vegetables.
Drink More Water
The next time you feel hungry in between meals, try drinking a glass of water before you reach for the snack drawer. Studies have shown that we often mistake thirst for hunger pangs, and proper hydration may be just what you need to keep you feeling satisfied until your next meal.
Don't Fear Spices
What many cultures around the world know, and what Americans are just starting to discover, is that generously using spices throughout your cooking is a great way to wake up your palate and pack a dish with flavor without relying extensively on fat. Spices like cumin, paprika, and coriander make food exciting to your taste buds, and they do it without adding any significant calories!
Pack in the Lean Protein
Protein is essential for the body to build muscle and convert energy, and it's best to rely on sources rich in lean protein like fish, tofu, and beans for the majority of your intake. Protein-rich foods that are higher in fat—like beef, dairy, and pork—should be eaten more sparingly. Don't forget that many nuts make great high-protein snacks in one-ounce portions.


Eat Breakfast Everyday
Hectic lives make it tempting for many people to walk out the door in the morning without eating breakfast, but this mistake can be detrimental to your healthy lifestyle. Eating breakfast helps control your metabolism and provides you with energy for the day. Pack your blender with whole fruits and vegetables the night before for a quick and easy smoothie in the morning. Steel-cut oatmeal with fresh fruit also makes for a delightful, nutrient-rich breakfast.
Embrace Occasional Hunger
If you're hungry between meals and water hasn't helped, maybe a snack isn't the best answer every time. Most people are too quick to grab whatever is near at the first sign of hunger, but sometimes it's ok to just be hungry until it's time for your next meal. Obviously, you need to use good judgement and not deny your body when it is desperately in need of something, but often, you'll find the hunger will pass and you'll avoid binging on processed snack-foods.
Snack on Whole Foods
When you do need a snack to tide you over, pass by the bagged treats and processed bars, and choose something more natural like whole fruits or a judicious serving of almonds. Companies can pack more sugar, salt, and fat into processed snacks than you would think possible.
Did You Enjoy This Article?
Subscribe Now and Enjoy These Benefits
Stay Up to Date on the Latest Fitness Equipment Maintenance Trends
Get Exclusive Money Saving Offers on Fitness Equipment Parts & Fitness Products
Be the First to Know About New Products
No Spam, No BS
Comments
comments