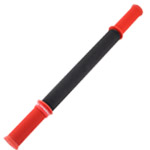 In today's fast paced world, most people don't even have time to exercise properly, let alone actually take the time and effort to stretch and massage their muscles correctly. Speaking of massage, it can be a very difficult thing to do by oneself. Usually you need to have a personal trainer handy for such things. This is no longer the case, however. With the Tiger Tail, you can self-massage quickly and easily every time you exercise!
Created by the Sports Performance and Rehabilitation Institute, or SPRI, the Tiger Tail is designed to help you self-massage your own muscles after a strenuous workout. The Tiger Tail comes in three sizes, and features sturdy nylon or heavy plastic handles and a padded massaging surface. Not only can you use the Tiger Tail by yourself, but its also able to be used on you by someone else, so if you do happen to have that personal trainer handy, they can certainly give you a great massage and rubdown using a Tiger Tail.
The smallest of the Tiger Tail line is the To-Go. With a massage surface of seven inches, it's easy to store this small wonder in a gym bag or locker. Just because it's small, though, doesn't mean it doesn't have everything the larger models have. The padded, rolling massage surface is smooth and durable, and its lightweight makes it easy to tote along with all your other workout equipment.
Next is the middle sized eighteen inch Tiger Tail. Its larger size means it can massage more surface area at a time, making your workout times faster, and your preparation and cool down easier. At only eighteen inches, it is still small enough to toss into a large duffle bag, or even into the bag in which you carry your Yoga equipment.
Finally, the twenty-two inch long Tiger Tail. It is the largest product in the Tiger Tail line, and has all the same features of its smaller cousins. The length makes it ideal for full back massages, and its still small enough to toss into a large gym bag.
Comments
comments