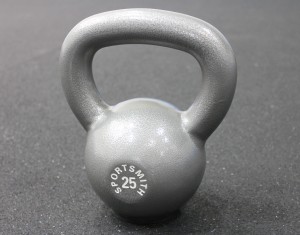 So what is a kettlebell? In the simplest of terms, it's a heavy weight with a handle. Modern kettlebells resemble a round ball with a flattened bottom. The handle attaches to the top of the "ball". Modern kettlebells come in a variety of weights and colors. They can also be rubberized or powder coated.
What's so great about kettlebells? Kettlebells have recently seen a spike in their popularity. The increase in kettlebell training is due, partially, to the fact that it gets back to the basics of training. That training requires functional, whole body fitness. Athletes training with kettlebells are able to condition their whole body. Kettlebell exercises require this, because in order to lift and control a kettlebell your entire body is contracting as a group, especially the core. By doing this, your body is building strength and stability all at the same time. Kettlebell workouts engage multiple muscle groups at once. Therefore, they are a great option for a total body workout in a quick amount of time.
Sportsmith's uniquely designed free weight system, cast iron Kettlebells are an ideal weight-training complement to traditional dumbbells, barbells and weight machines. The rounded handle facilitates a unique lifting method and greater range of motion and control, and the novel design creates additional leverage that enables different muscle groups to work together effectively, optimizing your workout. Perform squats, swings, snatches and clean-and-jerk exercises to build muscle, increase aerobic endurance and promote cardiovascular health.
For more information about Sportsmith Kettlebells click here.
Comments
comments