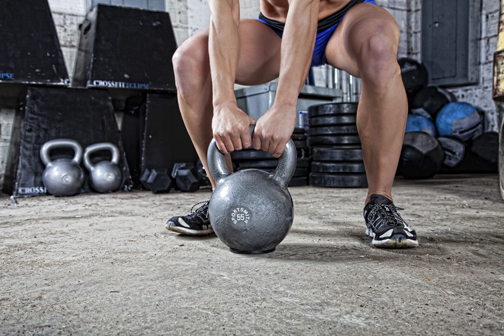 You may have heard the term kettlebells in your gym or read the word in Men's Health, but many people who exercise don't incorporate them into their training routine, which is quite the disservice. The best way to describe kettlebells is that they are cannonballs with handles. Unlike dumbbells, the majority of the weight of kettlebells is beyond the reach of the hand. Yet just like dumbbells and resistance bands, kettlebells are an effective way to build strength and gain a complete cardiovascular workout.
The reason for their effectiveness is in their shape. Since the weight is beyond the reach of the hand, it is tougher to control kettlebells. The hands, arms, back, legs, and core must work harder to maintain form. This increase in muscle activity means an increase in metabolic output, which means more fat lost.
Kettlebells put a new spin on old exercises. A key component of building mass and strength is tricking the muscles. If you do the same routine each time you work out, you and your muscles will get bored. You will not put in the same effort, and your gains will plateau. Doing a chest fly with kettlebells, rather than dumbbells, changes the exercise completely resulting in mass and strength increases. Plus, kettlebells are versatile and can be used to work out many different parts of the body. It is possible to do a total body circuit workout with just two kettlebells and push your body to the limit. Kettlebells are a necessity in any home gym and should make an appearance in your fitness regimen if you are looking for something different that will make you leaner and stronger.
Comments
comments