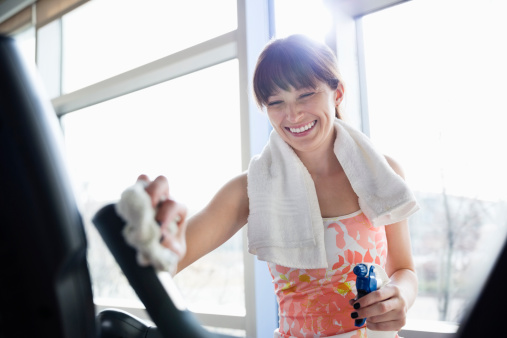 In spite of all the specialties and styles of gyms, there are really only two types of clubs: the dirty one and the clean one. Fortunately, there are a number of ways to keep your club clean and healthy. You can further trust that the great members you want in your gym can also tell the difference. From a business perspective, a clean, healthy club is going to draw members who stay and provide success over the long term.

The Sign-Up Process
Cleanliness starts when a new member joins the club. This is because, ultimately, your gym won't stay clean if your members don't participate and keep it clean. As part of the sign-up process, make it clear what your expectations are for each new member: to take responsibility for themselves and to keep themselves clean according not to their standards, but to everybody's expectations. Make it clear their membership fees are to lease exercise equipment, not hire a mommy to clean up the mess they leave.
Build the Community Atmosphere
After the sign-up process, introduce members to each other. Everybody in your gym doesn't have to be BFFs who skip part of their workout to chat on sight, but people who know each other with amicability are going to act differently than strangers. When the community works together to keep the gym clean, you'll wind up much cleaner than when random people come through at different times of the day with no care for what they leave behind.
Incorporate Interesting Signage
A colorful sign with scientific pictures of bacteria, silly cartoon drawings of somebody who is sick, and a graphic of somebody washing their hands is going to be talked about by your members — as they wash their hands. And that's the point, exponentially. Your members aren't only washing their hands; they're enjoying washing their hands and are thereby associating a little light laughter with their workout. You can move signage around and replace it regularly to keep your members talking about cleanliness while trying to figure out which signs will be where each week. This will likely lead to their continued active membership; they have a side project to check in on in addition to their scheduled exercise.
Incorporate a No-Cold Policy
Nobody wants to catch the flu, but that is rarely a problem since people who already have it aren't in the mood to come work out. Colds, on the other hand, can be a bit different. People in general — and this especially holds true for people who care enough about their health to work out, tend to deny that they are a bit sick. It can be difficult to enforce a no-colds policy, since nobody really knows just how sick somebody else is, but there are ways to inspire your members to adhere to the rule. If your club uses a points system, offer to comp a daily amount of points when somebody calls in sick. Alternatively, you can give one day of membership fees when somebody calls in sick. You can trust that any long-term loyal members who actually build up 30 days of sick leave are deserving of a free month at your gym.
Provide Antibacterial Body Wipes
Your members often use towels to wipe off sweat, so they won't complain about using cool, moistened wipes that feel good and have antibacterial properties. It's a simple matter of getting your members to do it.
Provide Fitness Equipment Wipes

Cleaning equipment after use is one of the most essential practices for keeping a clean gym. You don't want your members wiping equipment with some dirty rag they brought from home, and they won't wipe it with a clean towel if they have to walk across the room to get one. Wipes impregnated with cleansing solutions are needed in close proximity and easily accessible to each machine in your gym. This encourages people to use the wipes and makes it easier for someone to speak out if they see someone failing to wipe down a machine after use.
Use Antibacterial Towelettes for Hard Surfaces
At the end of the day, after the customers have left and the gym is closed, somebody has to do a thorough cleaning of the entire area. This process can be made much easier by using specially designed antibacterial towelettes for the appropriate hard surfaces. This not only keeps the gym looking nice, but it also kills germs before they have a chance to fester. A good, thorough cleaning every day is what keeps the gym safe and healthy, which is, after all, the whole point of coming to a gym in the first place.
Use Easily Accessed Dispensers
No matter how great the cleaning materials you provide and how much you encourage your members to use them, nobody is going to work toward keeping the club germ-free if it's a pain in the neck to find and use them. Easily accessible dispensers have to be strategically placed throughout the gym to encourage everybody to wipe down and stay clean. Dispensers placed on stands between pieces of equipment are integral to keeping a clean gym.

Actively Enforce the Rules
Enforcing the rules is arguably the hardest part of the process. As uncomfortable as it to watch somebody being nasty, it's even more uncomfortable to be the person who has to tell them they're being nasty. It requires a soft touch from well-trained employees. Public humiliation and shaming is unacceptable and will only drive customers away, defeating the goal and purpose behind your gym. Remember that the people who aren't adequately cleaning behind themselves are probably not aware of the fact. Usually it only takes a gentle reminder and a bit of teaching for people to happily start cleaning to your standards before, during and after their workouts.
Click here for additional information on Fitness equipment and Gym Equipment Wipes
Did You Enjoy This Article?
Subscribe Now and Enjoy These Benefits
Stay Up to Date on the Latest Fitness Equipment Maintenance Trends
Get Exclusive Money Saving Offers on Fitness Equipment Parts & Fitness Products
Be the First to Know About New Products
No Spam, No BS
Comments
comments