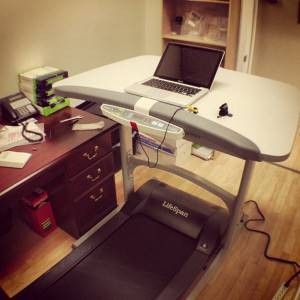 Image Courtesy of Daniel Rothamel
A sedentary lifestyle dramatically increases the risk of developing lifelong obesity, heart disease, mental health problems and certain cancers. With jobs moving from labor-intensive manufacturing positions to all-day office work while sitting at a desk, more people are facing health effects from limited physical activity than ever before. Luckily, the innovative treadmill desk has caught the eyes of office managers everywhere. Treadmill desks drastically limit sitting time by keeping people moving throughout the day. The effects go beyond improving public health to benefiting office-based companies, fitness centers and fitness equipment service providers.
Participant Benefits
The main benefit of using a treadmill desk center is improvement in the health and lives of workers. Daily physical activity not only provides incredibly dramatic physical health improvements but also has lasting effects on mood and well-being. The health effects further inspire workers to head into the gym to build their strength and endurance on additional fitness machines. Companies benefit from a decrease in sick days and medical insurance claims alongside a boost in production numbers.

Improved Health Status
The health effects of sitting for hours each day are devastating to people in all demographics. The effects tend to multiply several times over as the hours of sitting drag on throughout the day, week and year. In fact, the risk of dying in a three-year period increases more than 40 percent for people who stay seated for at least 11 hours each day. Health problems contributing to that increased risk of premature death include coronary heart disease, metabolic syndrome, depression, anxiety and obesity.
Motivation to Work Out
As workers start to feel healthy and energized from leaving seated work behind, the newfound feelings of well-being often encourage them to head to the gym for additional rounds of fitness training. Workers might want to round out the cardio benefits of their treadmill desks with lunchtime lifting programs to build strength. Gym owners near office complexes will likely see an increase in visits, especially before work, during the lunch hour and toward the evening, as treadmill desks take over office spaces.
Boost in Productivity
Workers who feel well and energized will naturally have more effort to put into tasks throughout the work day. As a result, productivity levels for each worker will quickly rise as workers adapt to using their treadmill desks. Constant movement encourages workers to keep their minds on their daily goals, which reduces the amount of downtime between smaller tasks. Since workers will spend the work day walking on the treadmill, the frequent need to leave their desks to stretch their legs may dramatically decrease. Workers may even favor a collaborative treadmill desk layout that keeps everyone in close proximity to encourage sharing without delaying completion of daily tasks.
Workers will naturally call in sick less often, leading to more productive days with the full roster of staff members on hand. Office managers may even see fewer high-value insurance claims as staff member health problems naturally decrease over time.
Industry Benefits
The integration of treadmill desks into office environments definitely benefit fitness equipment manufacturers and repair technicians worldwide. As office managers adopt this potentially lifesaving and business-boosting workplace setup, treadmills will be in high demand.
Increased Repair Requests
With so many treadmills running at a time, service technicians will constantly have a full queue of maintenance and repair appointments. Friction between the constantly moving parts necessitates regular maintenance to keep treadmill components in good shape throughout the machine's life.
Since most treadmills only consist of components vital to the main operation of the moving walking surface, any worn or broken parts will require immediate repair to return the equipment to service. With the increase in repair requests, skilled technicians may start to consider the use of desk treadmills a boon to the fitness equipment service industry.
Keeping Equipment Maintained to Facilitate Workers' Needs
After full adoption of the fitness desk configuration, service technicians will be running between office environments on a regular basis to keep equipment in good shape over the years. Keeping the treadmills running for even half of the work day will constantly wear down the belts and decks. Cleaning the equipment, inside and out, will consistently remain a vital part of service technicians' callout requests to keep appearances up throughout the office space.
Did You Enjoy This Article?
Subscribe Now and Enjoy These Benefits
Stay Up to Date on the Latest Fitness Equipment Maintenance Trends
Get Exclusive Money Saving Offers on Fitness Equipment Parts & Fitness Products
Be the First to Know About New Products
No Spam, No BS
Comments
comments