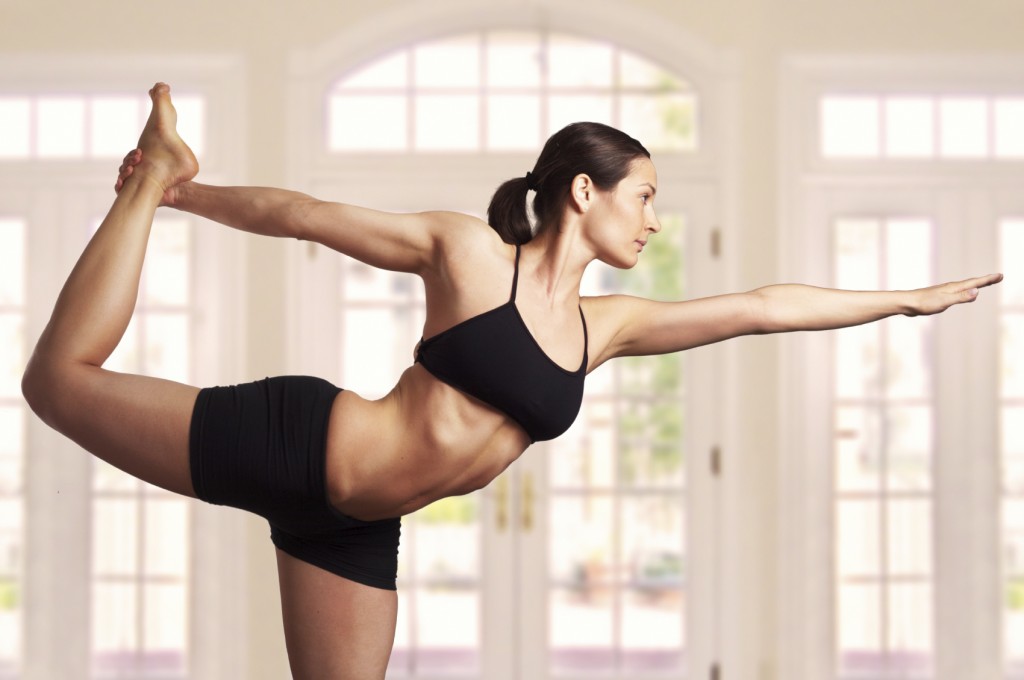 One of the best parts about yoga is that it can be done anywhere and without much equipment. It is truly a democratic routine. All you really need is a yoga mat, yoga blocks, and yoga straps. A good yoga mat is important because it will shield your feet and body from the ground. You will spend a lot of time on the ground, so it's important to be protected. Besides the yoga mat, yoga blocks and yoga straps can help lengthen your body. In the beginning, you may not be flexible enough to perform some of the poses. A yoga block or yoga straps allow you to perform the move without too much strain.
If you do decide to start a yoga program, you should conduct research and look for classes in your area. Gyms offer many different classes depending on style and experience level. For example, Bikram Yoga runs 90 minutes and consists of doing 26 poses in heat. If you can't make it to the gym and are doing it at home, there are some moves that you should absolutely consider trying out to feel the bull benefits of yoga.
Downward Dog strengthens your upper body and can help relieve lower back pain. Start with your knees and hands on the ground about shoulder length on the ground. Lift your knees off the ground until your legs are straight. Walk your hands a few inches forward and your feet a few inches back. Suck in your stomach and hang your head loosely. Hold for two minutes as you breathe deeply.
Warrior 1 will loosen the hips and put stress on the knees to strengthen them. Start in Downward Dog and lift your right leg off the ground. Make sure your leg is straight. Kick your right foot forward and go into runner's stance. Put your back foot down and slowly ascend your hands and chest until you're upright. Your hips and shoulder should be aligned. Hold for two minutes while breathing deeply and go back into Downward Dog to do the left leg.
Chair is the perfect exercise to work your glutes.  As your feet touch, raise your arms into the air. Drop your knees and sit back as if you were sitting on a chair. As you breathe, try to get so low that your thighs are parallel to the floor. Make sure your knees and thighs are touching Hold for two minutes or as long as possible as you breathe deeply enjoying the stretch.
Tulsa, OK -- January 6, 2010 -- SPORTSMITH™, the nation's largest fitness products and  equipment parts  supplier, today announced the release of its expanded 2010 Winter Edition Catalog. Concurrently, SPORTSMITH™ completed its expansion into an additional  20,000 sq. foot office warehouse. A new company blog and user forum, accessible through www.sportsmith.net, has been designed and introduced to enhance the user experience. Customers still receive same-day delivery on products and equipment parts purchased online and through the company's 192-page direct mail catalog.
"We're extremely proud to launch our massive 2010 Winter Edition Catalog," explained Brad Schupp, President of SPORTSMITH LLC. "We developed this publication to act as the ultimate facility maintenance reference tool for Health Club operators, complete with maintenance charts, equipment diagrams, fitness equipment parts, functional training products and maintenance information for the most popular fitness equipment brands including Life Fitness®, Star Trac®, StairMaster®, Schwinn®, Precor® and Landice®."
The new catalog encompasses the largest selection of fitness equipment parts along with strength and functional training products and the latest eco-friendly yoga mats, blocks and straps. Notable additions include:
Life Fitness® Parts and Equipment:
T-Series 91T, 97TI and 90T Treadmills
95X Elevation and 95Xi Arctic Silver Cross Trainers
95 Se and 93S Steppers
95R Elevation Indoor Recumbent and Upright Cycles
Star Trac® Parts and Equipment:
E-Series E-TRE and E-TRxe Touch-Screen Treadmills
E-Series E-TR, ETRx and E-TR Generation 1 Treadmills
S-Series S-TRc and S-TRx Treadmills
Matrix® Parts and Equipment:
T3x, T3xi and T5x Treadmills
Treadmill Running Belts, Rollers and Decks
True Parts and Equipment:
CS1.0, CS4.0, CS6.0 and CS8.0 Treadmills
CS 8.0 and PS 900 Indoor Cycle Parts
Cybex Parts and Equipment:
LCX-425T, CX445T and CX455T Treadmills
Precor® Parts and Equipment:
EFX C576i and Amt C100i Elliptical Replacement Parts
C966i Treadmill Replacement Parts
Nautilus® Parts and Equipment:
T912, T914 and T916 Treadmill Replacement Parts
The SPORTSMITH™ 2010 Winter Edition Catalog also features additional savings on the most popular commercial model OEM and SPORTSMITH™ brand treadmill running belts, decks and rollers along with an expanded selection of sports performance training equipment from Agility Dots, Agility Domes, Mini Hurdles, Agility Ladders and Lateral Power Trainers.
Group exercise products now incorporate Polar® heart rate monitors, SportStep, the Original Health Club Step™, SPORTSMITH resistance bands, medicine and stability balls, yoga and exercise mats. Functional training product selection has been expanded to include specialty items tailored for balance and stability, speed and agility, sports-specific training, fitness assessment and weighted resistance.
To further boost interactivity and knowledge-sharing, SPORTSMITH™ has also established its new website blog and user forum. These features are available to anyone free-of-charge at sportsmith.net. The company blog will provide readers with up-to-date industry and company new stories, announcements and articles of interest to health club owners, journalists and health-conscious individuals.
The new SPORTSMITH™ user forum provides a real-time, moderated platform for discussion on various industry topics. Threads will include advice and dialog on topics of interest to subscribers including health center business operations, facility marketing, industry trends, employee hiring and management strategies.
"Our latest innovations reaffirm our commitment to supplying the most popular and functional fitness equipment parts and personal training products in the industry," Schupp explained. "SPORTSMITH™ is proud to offer the added advantage of hassle-free customer service, 24/7 online ordering and express same-day shipment." All SPORTSMITH™ fitness equipment parts meet or exceed OEM specifications and include the full SPORTSMITH™ warranty.
For more information, call 888-713-2880 or visit www.sportsmith.net.
About SPORTSMITH™
Founded in 1995, SPORTSMITH™ is the nation's largest supplier of fitness equipment and parts for health clubs and health-conscious individuals. The company is recognized for its superior quality, express same-day shipment on all orders, comprehensive selection of more than 40,000 individual items and overall value, with products 10 to 30 percent below competitive retail prices. The company serves customers through its 20,000 sq. foot state-of-the-art office warehouse, with orders placed by mail, fax, phone or online via its direct mail catalog and secure ecommerce website.
For thousands of years, practitioners have used mind-body exercise such as yoga as a great stress reliever while strengthening, toning and increasing flexibility. Today, yoga is more popular than ever—even outside of the studio. Increasingly, personal trainers, fitness professionals, and fitness-minded exercisers are incorporating yoga moves and equipment into their routines.
Try adding the following to your fitness routines and yoga practices:
Warrior II:
This is a great yoga move to strengthen legs and glutes, improve postural alignment and core strength and to stretch adductors.
Standing with feet a leg length apart on a sticky mat (to improve traction and provide some cushioning), turn your right foot out 90-degreesand the left foot 45 degrees. Keeping the pelvis level, bend the right knee so that it is directly over the ankle, with center of kneecap aiming toward the 2nd and 3rd toes. Keep your weight even on both legs and your torso vertical, contracting the abs and pressing the shoulder blades down and back to work the core. Keeping your base solid and pulling your abs in and up, extend the arms out to the sides and focus your gaze over your right hand. Breathe evenly through the nose and start out holding the pose for 10 breaths, increasing the amount of time with experience. Repeat on the other side and evenly train your body.
Downward Dog:
Perhaps one of the most recognized yoga postures, downward dog is a great way to strengthen the whole body, build functional strength, and stretch the hamstrings and calves. Begin by getting on your hands and knees, with your hands six-inches from the front of your yoga sticky mat. Place your hands under shoulders and knees under hips, spread fingers wide and press every knuckle into floor. With your inner-elbow creases facing forward, draw the shoulder blades down the back. In one smooth motion flatten the spine, tuck the toes under and lift the hips up and back while straightening the legs—forming an upside down "V" over the sticky mat. In this position reach the heels toward the floor, pull the inner thighs up and back as you lengthen through the waist. Try to bring the weight into the legs, keep the palms pressing into the mat and let the head hang to relax the neck.
Yoga Block:
If your hands can't reach the floor during standing forward bends or any yoga pose, a yoga block is an invaluable tool. By bringing the floor closer, users can maintain proper form and reduce the risk of injury.  Yoga blocks can also be used to help keep knee and feet alignment during bridges, leg presses, stability ball squats and more by placing the block between the legs (just above knees) while performing the exercises.
Yoga Straps:
Yoga straps are crucial for beginners and are a very helpful tool for more advanced yoga practitioners and fitness participants. By increasing one's reach they help to advance strength and flexibility and while performing static stretches, such as a supine straight-legged hamstring stretch. Yoga belts can also be looped with the buckle to support upper-arm placement in poses such as planks, downward dog, scorpion, back bends and more.
This Article is for information purposes only. Exercisers should seek the advice of a qualified personal trainer before attempting any exercise.