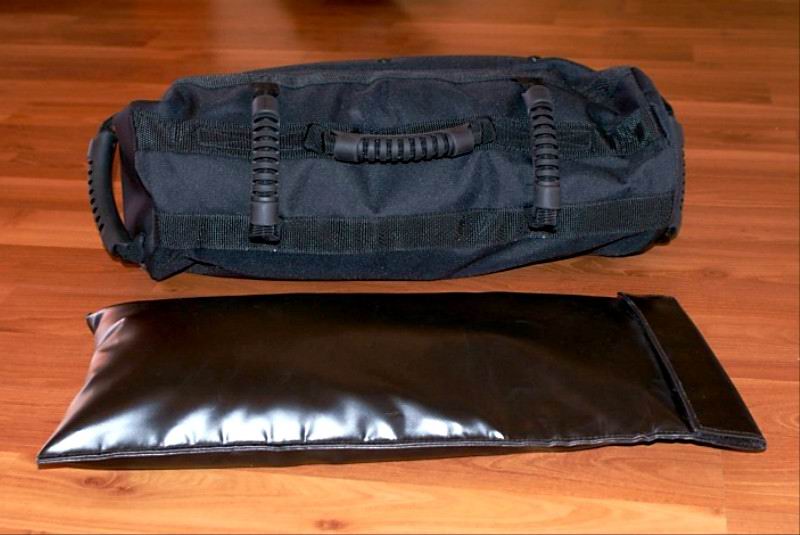 Working out with sandbags is similar to using a balance or wobble board (or products that achieve a similar result). While using those, you stand on an unstable surface and try to keep your body's balance on top of the constantly shifting surface. This forces your body to use muscles rarely used in daily life, particularly the core muscles of your lower abdomen and back. Sandbag workouts use a similar principle. Instead of a single, hard lump of weight like a barbell, a sandbag shifts around constantly while in use, and this forces your body to make small adjustments. This works muscles rarely used (as mentioned before, it's similar to using a balance board), with the addition of applying a traditional workout to your arm and leg muscles. There really isn't another product out there that can boast of this versatility. Usually, core muscle workouts are separate from other types of exercise, but a sandbag combines them into a unique, and exhilarating exercise program that almost anybody can do. Sandbag training is also catching on with various sports, particularly the NBA. They are also being implemented into the popular high intensity interval training exercise programs.
SPORTSMITH currently carries two varieties of sandbags. These bags are incredibly sturdy and will withstand years of regular use. The outer shell is made of heavy-duty material, and each bag has several grip options for various uses in your workouts. Note that the bags do NOT ship with sand or other filler material. This is to minimize shipping costs. However, this leaves it up to you as to how to fill the bags, as you can use heavy materials like sand, or use lighter material like rice or wood chips. This lets beginners and experts alike tailor their exercises to their own personal needs. Variety and versatility is what these bags are all about!
The first product we carry is the "Ultimate Sandbag Power Package". This comes with a 9" X 19" bag and two filler bags. These bags can be filled up to twenty pounds each. This package also includes an instructional DVD and a wall map to aid in your training.
The second product we carry is the "Ultimate Sandbag Strength Package". This one comes with a 10" X 27" bag and two filler bags that can be filled up to forty-five pounds each. As with the Power Package, this also comes with an instructional DVD and a wall map.
SPORTSMITH is excited to bring you these new products. We strive to stay on the forefront of new and unique fitness products, and to bring them to you at the best cost possible!