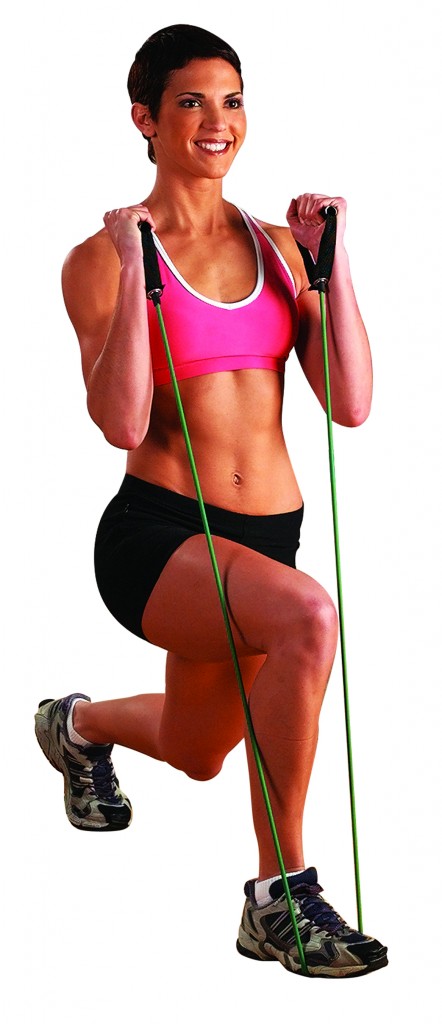 As fitness professionals, you know the importance of incorporating strength training into a workout regimen. With that being said, you also know not everyone is willing to hop under a bench press or settle under a squat rack. And while these tried-and-true exercises are often associated with strength training, they're not the only options.
A number of health professionals are introducing clients to alternative forms of strength training.  Instead of bench presses and dead lifts, they're using free weights—dumbbells and kettlebells.  And some are even taking it one step further.  They're forgoing the use of physical weights and opting for resistance bands.
As it turns out, a number of people trying to whip themselves back into shape prefer these methods of strength training.  They're not as daunting, especially for those who are out of shape or elderly.  Dumbbells and kettlebells offer more varied usage than, say, a bench press.  With dumbbells an individual can perform exercises that hit pectorals, biceps, triceps, forearms, and a number of muscles in your shoulders and back.
When individuals use dumbbells, kettlebells, and resistance bands, they have more control over their workout.  They get the strength training they need without enduring some of the hardships, like injuries, associated with the more common methods.
For more information, be sure to view our strength training products page.
Tulsa, OK -- January 6, 2010 -- SPORTSMITH™, the nation's largest fitness products and  equipment parts  supplier, today announced the release of its expanded 2010 Winter Edition Catalog. Concurrently, SPORTSMITH™ completed its expansion into an additional  20,000 sq. foot office warehouse. A new company blog and user forum, accessible through www.sportsmith.net, has been designed and introduced to enhance the user experience. Customers still receive same-day delivery on products and equipment parts purchased online and through the company's 192-page direct mail catalog.
"We're extremely proud to launch our massive 2010 Winter Edition Catalog," explained Brad Schupp, President of SPORTSMITH LLC. "We developed this publication to act as the ultimate facility maintenance reference tool for Health Club operators, complete with maintenance charts, equipment diagrams, fitness equipment parts, functional training products and maintenance information for the most popular fitness equipment brands including Life Fitness®, Star Trac®, StairMaster®, Schwinn®, Precor® and Landice®."
The new catalog encompasses the largest selection of fitness equipment parts along with strength and functional training products and the latest eco-friendly yoga mats, blocks and straps. Notable additions include:
Life Fitness® Parts and Equipment:
T-Series 91T, 97TI and 90T Treadmills
95X Elevation and 95Xi Arctic Silver Cross Trainers
95 Se and 93S Steppers
95R Elevation Indoor Recumbent and Upright Cycles
Star Trac® Parts and Equipment:
E-Series E-TRE and E-TRxe Touch-Screen Treadmills
E-Series E-TR, ETRx and E-TR Generation 1 Treadmills
S-Series S-TRc and S-TRx Treadmills
Matrix® Parts and Equipment:
T3x, T3xi and T5x Treadmills
Treadmill Running Belts, Rollers and Decks
True Parts and Equipment:
CS1.0, CS4.0, CS6.0 and CS8.0 Treadmills
CS 8.0 and PS 900 Indoor Cycle Parts
Cybex Parts and Equipment:
LCX-425T, CX445T and CX455T Treadmills
Precor® Parts and Equipment:
EFX C576i and Amt C100i Elliptical Replacement Parts
C966i Treadmill Replacement Parts
Nautilus® Parts and Equipment:
T912, T914 and T916 Treadmill Replacement Parts
The SPORTSMITH™ 2010 Winter Edition Catalog also features additional savings on the most popular commercial model OEM and SPORTSMITH™ brand treadmill running belts, decks and rollers along with an expanded selection of sports performance training equipment from Agility Dots, Agility Domes, Mini Hurdles, Agility Ladders and Lateral Power Trainers.
Group exercise products now incorporate Polar® heart rate monitors, SportStep, the Original Health Club Step™, SPORTSMITH resistance bands, medicine and stability balls, yoga and exercise mats. Functional training product selection has been expanded to include specialty items tailored for balance and stability, speed and agility, sports-specific training, fitness assessment and weighted resistance.
To further boost interactivity and knowledge-sharing, SPORTSMITH™ has also established its new website blog and user forum. These features are available to anyone free-of-charge at sportsmith.net. The company blog will provide readers with up-to-date industry and company new stories, announcements and articles of interest to health club owners, journalists and health-conscious individuals.
The new SPORTSMITH™ user forum provides a real-time, moderated platform for discussion on various industry topics. Threads will include advice and dialog on topics of interest to subscribers including health center business operations, facility marketing, industry trends, employee hiring and management strategies.
"Our latest innovations reaffirm our commitment to supplying the most popular and functional fitness equipment parts and personal training products in the industry," Schupp explained. "SPORTSMITH™ is proud to offer the added advantage of hassle-free customer service, 24/7 online ordering and express same-day shipment." All SPORTSMITH™ fitness equipment parts meet or exceed OEM specifications and include the full SPORTSMITH™ warranty.
For more information, call 888-713-2880 or visit www.sportsmith.net.
About SPORTSMITH™
Founded in 1995, SPORTSMITH™ is the nation's largest supplier of fitness equipment and parts for health clubs and health-conscious individuals. The company is recognized for its superior quality, express same-day shipment on all orders, comprehensive selection of more than 40,000 individual items and overall value, with products 10 to 30 percent below competitive retail prices. The company serves customers through its 20,000 sq. foot state-of-the-art office warehouse, with orders placed by mail, fax, phone or online via its direct mail catalog and secure ecommerce website.