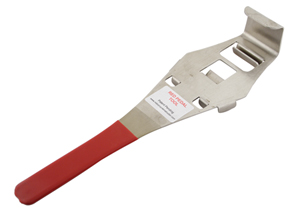 Are you an indoor cycle instructor or a spin enthusiast that is tired of wrestling with the removal of the toe cage found on the popular Schwinn Triple Link pedals? You know what kind of headache it is to remove the shoe clip before a class so the pedals are ready for LOOK or SPD shoe cleats.
Now there's an easier way with the Red Pedal Tool. No more delayed classes, bruised knuckles, or broken pride. With the Red Pedal Tool, Triple Link pedals can be removed safer and easier from your indoor spin bike.
The Red Pedal Tool eliminates the hassle instructors or members face when removing the toe cage used for regular running shoes to make pedals SPD or LOOK compatible.