EXF Rings Setup Guide from Tyler Hass on Vimeo.
Setting up Gymnastic Rings can be done in various ways. No matter where you decide to set up your rings, be sure the area for use is free of all obstructions.
Indoor use:
The straps can be thrown over a bar, beam or ran through an eye screw installed into the framework of the ceiling. Rings can even be set up in a doorway with the use of a pull up bar. This would be good for most abdominal work, pushups and dips; however, it is not good for high ring work.
Outdoor use:
The straps can be thrown over a tree limb, swing set, monkey bars and wherever else one may find at the local park or playground.
Performing workouts outdoors allows for the addition of sprints or jogging during sets. Bring along a medicine ball or kettlebell for more variety to your workout.
Once the strap is in the desired place, you then run the strap through the buckle and the ring is now ready for use.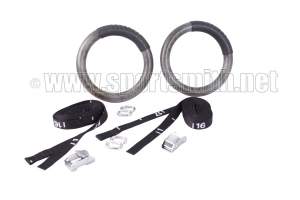 EXF Rings at SPORTMITH.