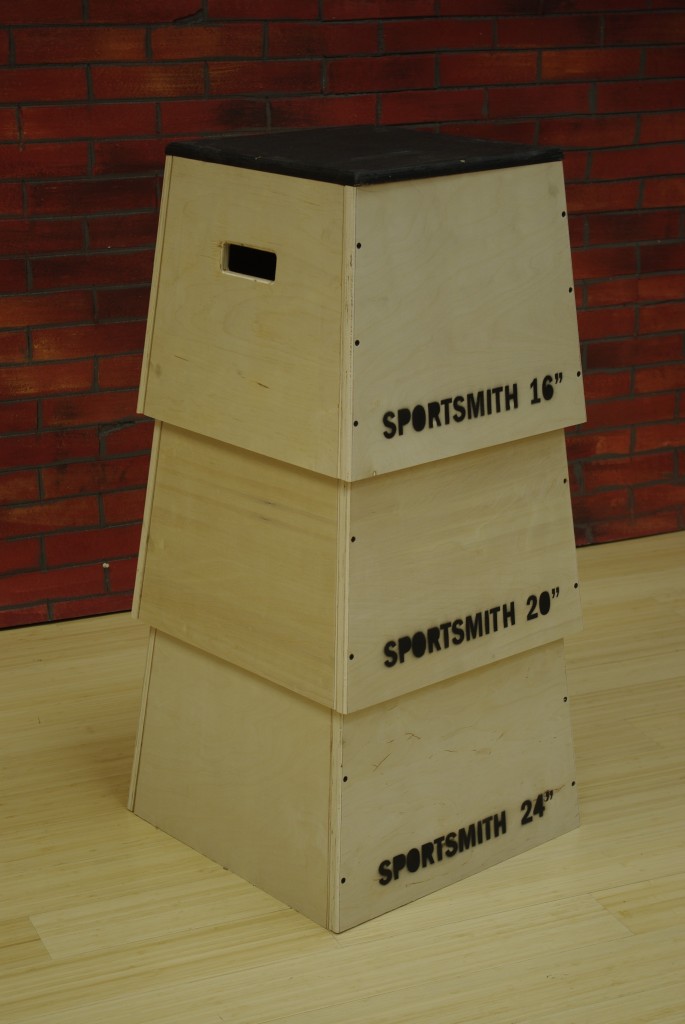 Recently, Plyometric Boxes have really taken off as a great way to cross-train, especially with programs like high intensity interval training. SPORTSMITH carries a wide variety of Boxes, ranging from those that are adjustable and made of all-metal frames to fixed ones that come pre-assembled. Recently, we started carrying a new style Box, and it's really nice!
These Wooden Plyo Boxes are made of super sturdy plywood, and have a landing surface that is entirely covered in a non-slip, high grip surface.  The non-slip surface is very handy when trying to quickly knock out high repetitions ob box jumps. All of these new Boxes feature beveled edges for extra safety, and are angled like a pyramid for maximum stability. So no need to worry about coming down on a sharp edge. They're also perfectly designed for heavier athletes, as they have hardwood support slates secured inside them. This not only makes them extremely sturdy, but also allows you to stack them for storage. Being able to stack these bad boys is huge! No need to worry about the boxes getting stuck on top of another one. Plus, stacking is a great space saver. Pre-cut hand holes allow for easy transportation, as well.
SPORTSMITH offers these new Boxes in three sizes. Sixteen inch, twenty inch, and twenty-four inch. They also come either assembled or unassembled. The unassembled ones can be put together very easily will save you a bundle on shipping costs. Lastly, we also offer a Box that has a really handsome red mahogany finish (pre-assembled only). You'll be the envy of your gym when you bring in one of these! Get yours today!