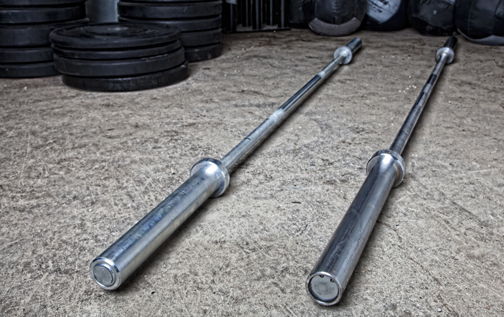 Established in 1979, the Wright Weight Equipment Co. has been supplying the Southern states with quality, extremely durable weightlifting equipment for over 30 years now. SPORTSMITH is proud to feature their high-quality products in our lineup.
  Olympic barbells differ slightly from traditional barbells used in weightlifting. Instead of being just a solid straight piece of metal, they have rotating sleeves. This allows the lifter to do certain kinds of lifts easier due to less rotational inertia being exerted on the weights, and thus, less risk of injury or releasing the bar at an inopportune time.
  Wright barbells are made of the highest quality materials available. They feature brass-insert bushings in the rotating sleeves to allow the smoothest spin possible for the weight plates, and many are zinc coated to ensure a bright, corrosion resistant finish that will last a lifetime.
  SPORTSMITH currently carries several different varieties of the Wright Bar. The HD bar is their standard bar. Made of high tensile steel, and coated with shiny zinc, they are rated at 1200lbs., are 7' long, and weigh 45lbs. They feature knurling on the grip areas for superior a superior hold on the bar. Next is the Wright Women's HD Bar. This one is specifically designed for women to use. It's the same length as the HD Bar, but slightly lighter, at 33lbs. All of the other features are exactly the same. Lastly, we carry the Wright Aluminum Technique Bar. This is a much lighter (11lbs.), and somewhat shorter (6ft.) bar designed for practicing lifting techniques. It is rated for 150lbs. of weight, and is made of sturdy aluminum. It's perfect for someone who's just getting into weightlifting and wants to practice techniques before moving on to the seriously heavy stuff.
  Weightlifting is a time-honored sport, and an excellent exercise for strength building, and SPORTSMITH carries a full line of equipment. When it comes to the Olympic style of lifting, the Wright bars are some of the best around!