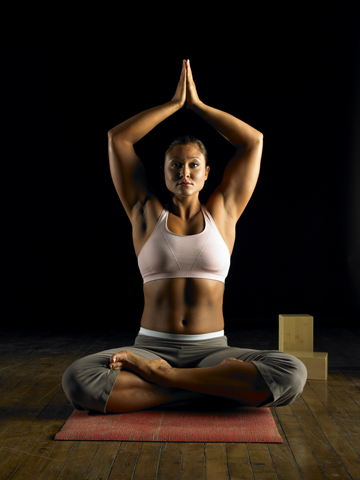 With students returning to school, what better way than to kick-start September by participating in National Yoga Awareness Month, introducing more people to the healthy benefits of Yoga. All across the country,  Yoga studios will be hosting activities such as Yoga classes, concerts, and other special events to inspire people to "practice Yoga and create a more balanced lifestyle".
To start off, the Yoga Health Foundation, a non-profit organization registered in the State of California is offering one week of free Yoga to new students. By giving interested persons a "Yoga Month Card", it serves to initiate interest and awareness in Yoga. The card  has no monetary value and is good from September 1 to October 30.  Invite your family and friends to take advantage of this offer; encourage your neighborhood Yoga studio to participate and/or register events; have an expert come into schools or physical education classes to lead student-wide Yoga sessions.
Presently, over 1600 studios have registered and are involved in National Yoga Awareness Month. For your free pass to get started in Yoga, please click here.
After the month of activities are over, a culminating event will take place on September 30th, 7:00 pm local time. Yoga students of all experience levels are encouraged to practice an international observance with their teachers by doing a "worldwide Yoga practice". This will be an hour-long practice, followed by Savasana at 8 pm, and 15 minutes of meditation at 8:15 pm, focusing on universal peace and well-being. Savasana is also known as the corpse pose, a resting position that signifies the final relaxation of a Yoga session.
This final event will encompass a virtual worldwide wave-effect, spanning nations and countries, coming together through various time zones to end National Yoga Awareness Month with one big bang.
For a person who is new to Yoga, there are many styles to choose from; it may be a bit daunting at first as where to start. Yoga studios, being quite prolific these days, no matter what type of Yoga they teach, practices are all based on the same poses. The only difference is the emphasis or focus placed on movements, whether they are for flexibility, strengthening the core, or addressing injuries, etc.
Most importantly, you should try to find a style that suits your personality, needs, and purposes. Yoga has been around for over 5000 years, and as such, people have been practicing Yoga for various and numerous reasons: body toning, stretching after a workout, reducing stress levels, clearing the mind, boosting the immune system, for detoxification. The benefits are manifold. Listed below are the five most common types of Yoga styles.
A great starting point for beginners is "Hatha Yoga". Begun in India in the 15th century, this type of Yoga is both gentle and slow-moving, focusing on deep breathing practices and meditation. Basic poses are introduced to students, along with relaxation techniques. The benefits of Hatha Yoga are for managing stress, as physical exercise, and improving techniques.
Vinyasa Yoga is a variation on Hatha Yoga, where rhythmic breathing is synchronized with moving from one Yoga pose to another. This style of Yoga emphasizes the Sun Salutation pose, leading to a flowing series of 12 poses, breathing in and out with each movement. "Yoga Flow" is a popular class in many studios, where Tai Chi is incorporated with Yoga moves into one continuous fluid motion that is choreographed to Zen music, a form of Yoga that is both uplifting and cleansing in nature.
Vinyasa Yoga is great for building lean muscle mass throughout the body, plus total body conditioning. At the same time, this style improves strength and flexibility, along with toning abdominal muscles. This practice helps reduce risks of hypertension, heart disease, and Type II diabetes. It is appropriate for both beginners and students at advanced levels.
Ashtanga Yoga is also known as "power Yoga", where emphasis is placed on the eight limbs of the body. However, these are not physical limbs, but rather, aspects of a person's psyche: mental, emotional, and spiritual. This kind of Yoga is fast-paced and intensive, with many push-ups and lunges, designed to maintain body strength and stamina. At the same time, these moves help to relieve stress, improve coordination, aid in weight loss, and address the spiritual self. For a more detailed explanation on all eight limbs, please click this link.
Lyengar Yoga covers all 8 aspects of Ashtanga Yoga, but its concentration is on aligning and balancing the body. In this style, props are frequently used to strengthen poses: Yoga blocks, straps, blankets, etc. Standing poses are emphasized and held for long periods of time. In this way, alignment and balance is improved; body strength is built; and recovery from injury is sped up. This kind of Yoga is therapeutic in nature and beneficial for chronic conditions like arthritis, as well as being a good introductory course for beginners.
Bikram is also therapeutic in nature, known as "hot Yoga"; it takes place in a heated room of 95-100 degrees Fahrenheit. The aim of Bikram is to flush out toxins through sweating, and to loosen tight muscles with endurance stretching and deep heat massaging of various poses. In addition to cleansing the body, Bikram Yoga enhances flexibility and can speed up recovery from injury. These classes are appropriate for beginners, advanced students, and people with physical injuries.
No matter what type of Yoga you choose to practice, you can find studios all across America and around the world. To find a Yoga studio nearest you, click here. Additional websites are also available if you want to do some exploring. If you haven't already joined the Yoga movement, now is the perfect time to start, as National Yoga Awareness Month is here to initiate and inspire you to lead a healthier, wealthier, and more balanced lifestyle.