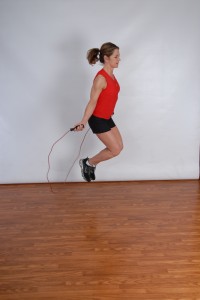 Jumping a rope for fun and exercise has been around a very long time. Jump ropes have progressed far from simply grabbing a length of hemp rope and jumping over it. There are styles and designs for almost everything imaginable. Today, we know that it's a beneficial exercise, and many athletes include it in their daily regimen.
Jumping rope actually has some benefits over running as an exercise. There is less stress to the legs and knees due to the fact that the body's weight is distributed on the balls of the feet during landing rather than the heels, which makes it a lower-impact exercise and lessens the chances of joint damage. It's also good for building cardiovascular stamina and arm, wrist, and shoulder strength. More than anything, though, it helps build up coordination and precision in the footwork. Boxers have long known that jumping rope helps with their footwork, and other athletes such as runners, track and field participants, and wrestlers, now jump rope to help with their footwork and timing. Even Mixed Martial Arts combatants have taken to using jump ropes to compliment their regimens. Jumping rope also has several advantages over other exercises. It requires only a single piece of very inexpensive equipment. You can do it completely by yourself with no trainer or partner required. You also need very little space to do it in, usually just stepping outside is good enough, but if the weather is bad, a garage with a high enough ceiling will do the trick. Jumping rope also requires little training. Just grab a rope and go. Just about anybody can do it.
SPORTSMITH currently sells a variety of ropes in different lengths, styles, and prices for different needs. Here are some examples of what we currently offer.
This one is designed purely for speed, such as when you see someone twirling the rope around two or even three times during a single jump. This is a basic, inexpensive rope that's perfect for the beginner, or for someone more advanced.
This rope is a little longer than the basic speed rope, and has several great features. Foam padded handles help you grip the rope, even with sweaty hands. A ball-bearing system in the molded handles delivers lightning fast speed as well.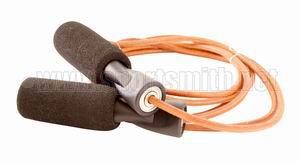 DELUXE LEATHER SPEED ROPE – 9'
Instead of a plastic polymer rope, this one features a sturdy, traditional leather one. It includes the same foam padded handles and ball-bearing system seen in the Deluxe Speed Rope as well.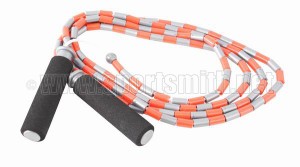 Designed more for beginners, this rope features elongated beads that slow the rope's orbit down, allowing you to learn the timing and cadence of the exercises. It includes foam padded handles.
Buddy Lee - ROPE MASTER PVC CORD ROPE – 9'
A recent addition to our jump rope line, the Rope Master has several interesting features. Its bearing swivel system allows for a lot of customization. You can easily replace the rope, or even adjust it to your height quickly, using the included tool. The rope itself is incredibly thin but strong, and coupled with the bearing swivel system, allows for some of the fastest speed rope action around. Foam padded handles included.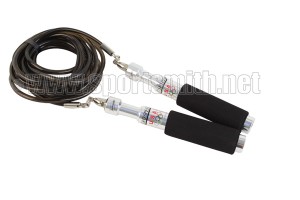 Buddy Lee - AERO SPEED ADJUSTABLE ROPE
The Aero Speed is a new type of rope. One that is completely adjustable to your needs. The rope length is adjustable to almost any height. It's lightweight, made of strong aluminum, and includes a replaceable swivel bearing system. Because of the way it's constructed, its also good for almost any type of jumps, from incredibly fast speed jumps, to slow and steady power jumps. Foam padded handles included.
This is a basic speed rope, but has a uniquely constructed handle that allows for almost no friction. The handles have a metal core, giving them heft and sturdiness. It is Ideal for blazing speed jumps and crossing maneuvers.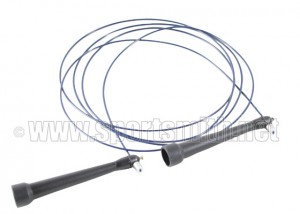 Featuring a thumb rest at the tip of each handle, this rope allows for superior control. It is designed for speed jumps, and uses a plastic coated steel cable for the rope, which is almost unbreakable. Handles designed with a tough a durable plastic with long lasting ball bearings. Handles are designed by competition jumpers who want the most out of their abilities
Note that SPORTSMITH also stocks racks and hangers for these ropes, so they will always be handy when you need them. Grab yourself a rope today and get to jumping!