With 2012 coming to an end, Sportsmith is looking to gear up for the new year. As a leading provider of innovative strength and personal training products we are constantly expanding our line of quality fitness equipment. Listed below is some new gear to help kick start those resolutions.
SPORTSMITH Soft Medicine Ball
We can't help make wall balls easier, but we can supply you with a better ball. Tired of a lopsided wall balls with center weights that don't stay in the center?? We were too. Our new Sportsmith Soft Medicine Balls are made with a perfect-grip, cushioned cover featuring 14 raised panels that create added grip and softness at the seams.The larger 14" uniform diameter is easier to throw, track, and catch for safe handling during the most intense workouts. Superior reinforcement and higher quality filling material ensure better shape retention and consistent weight displacement than lower-quality traditional balls. Long-lasting seams reinforced with threads that won't stretch or wear out. View all Sportsmith Soft Medicine balls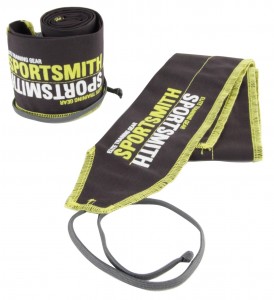 Sportsmith Wrist Wraps, Pair, Grey
It's time to grip it and rip it with our Sportsmith Strength Wraps. Whether you are setting WODs on fire or smashing OLY PRs these wraps are for you. Strength Wraps tighten down to provide stability for your wrist joints yet allow for full range of motion of movements. Our light weight fabric is made of 100% cotton. Designed with an exclusive liner to provide maximum joint support with minimum bulk. Cloth wrist wraps designed to tighten down on themselves, functioning as a tightening mechanism for wrist support with full range of motion. Sportsmith wrist wraps are specifically designed for strength training, power lifting, and Olympic weight lifting. View Wrist Wraps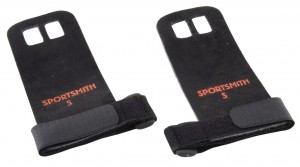 Leather Hand Grips, Large, Black, Pair
I've never heard of anyone bragging about how great washing their hair felt after shredding their hands on pull ups. So train smart and train for tomorrow with Sportsmith Gymnastic Grips.
Our grips come in 3 sizes and have adjustable velcro straps. View All Leather Gymnastic grips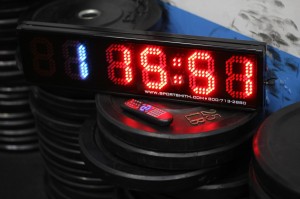 Programmable Interval Timer
Get a variety of functions with our new Programmable Interval Timer.
Programmable Timer can be programmed with specific count up to and down from times
Completely programmable interval timer

Number of rounds, length of rest and length of work can all be set up by the user for total custom intervals
Timer can save up to 8 custom programs

Dynamic display shows time in red while displaying the number of rounds in electric blue, 4 3/8" tall numbers
Timer Functions:

Stop Watch to hundredths of a second
Several preprogrammed intervals(Fight Gone Bad!)
Clock display
View Programmable Interval Timer.
MTape
When You Need a lot of Athletic Trainers Tape with Conformability and Excellent Tackiness, Get a Case of MTAPE in 15 Yard Rolls.
The white MTAPE® features high tensile strength with excellent tackiness and conformability

100% cotton backcloth, zinc oxide athletic trainers tape

Tape is easy to handle and easy to unwind to the core
Case contains:
Roll measurements:

Length: 15 yards
Width: 1.5"

100% Cotton backcloth
Color: White or black

Zinc Oxide
View all Athletic Tape.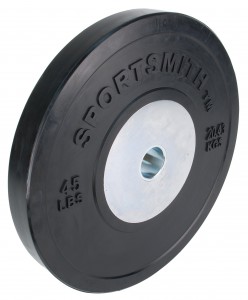 Olympic Competition Bumper Plates
No more busting out inserts and cracked out plates. Our new competition plates are as tough as they are pretty. Weight and dimensions calibrated to meet the specs of IWF. So go heavy.
Insert type: Steel disc, chrome coated
Collar opening: 50.40mm +/- 0.1mm
Weight tolerance: +/- 5 grams
Diameter: 450mm
Thickness: 2"
View all Competition Bumper Plates.