Variety is the spice of life. With Gym In A Bag, you get a LOT of variety without spending a lot of money. It's the portable solution to today's busy lifestyle.
It's sometimes hard to be able to get to the gym. We're all guilty of it. Life is just too complicated sometimes to allow us to actually make time to get the exercise we need. Gym In A Bag will help you by reducing the time it takes to work out, and keeping everything you need in one convenient place, ready to use at a moment's notice. You don't need a lot of space or specialized equipment to anchor anything to. It's just you, your Gym In A Bag, and maybe a door. That's all.
When you purchase Gym In A Bag, you get several high quality pieces of exercise equipment that will minimize time spent, while maximizing your workout benefits. It includes: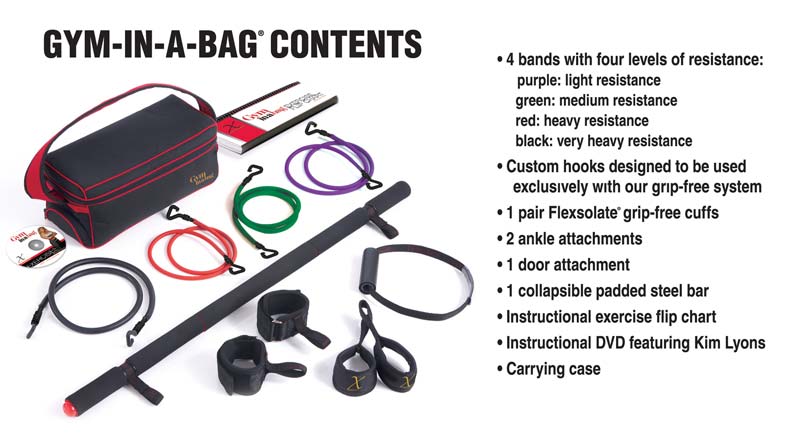 Now, this might all sound great, but there's an even greater benefit to Gym In A Bag. Instead of traditional weights, it uses resistance bands that require NO grip on the part of the user. Instead, you get cuffs that fit around your wrists and ankles. So, if your grip strength is low, you can still isolate and work muscles throughout your entire body with ease. Simply attach the cuffs and a resistance band, and you're set. Recently it's been discovered by those in the Physical Rehabilitation field that this type of exercise is extremely efficient compared to traditional dead weights that you hold in your hand. Also, many people are affected by certain injuries, like carpal tunnel syndrome, that don't allow the use of full grip strength. The cuffs easily (and comfortably!) bypass these injuries so that you can work out anytime you want with no discomfort at all. What more could you ask for in an exercise system?
For more information about Gym in a Bag click here.