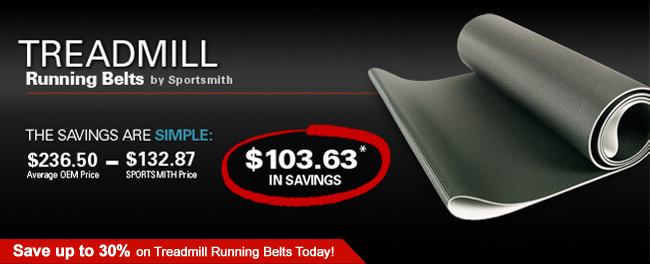 There is one component of every treadmill that is considered the most important for its smooth operation. That is the running belt. It sees the most wear and tear of any component by far, and needs to be tough and sturdy to resist all the rough treatment it receives. Belts come in all sizes, just like treadmills do, but the one thing you universally want is a high quality belt. Anything else is inefficient and could potentially damage your expensive treadmill!
SPORTSMITH™ GoPro belts are tough, period. They are tested for over 12,000 hours of use and upwards of 30,000 miles of walking. That is the equivalent of walking across China almost 10 times! SPORTSMITH™ GoPro belts feature a carbon fiber underside. This reduces static build up (a major problem with treadmills), and ensures less friction resulting in smoother operation. This will save you hundreds of dollars in costly repairs, and who doesn't like to save money?
They are manufactured with high quality Class 10 materials or higher, which greatly increase the belt's overall strength, tractability, and durability. This has the effect of reducing stress and strain on the other components of your treadmill, increasing its overall lifespan as well. With many of today's products designed with built-in obsolescence, it can be nice to know that some things are still built with quality and longevity in mind. Our belts also come with a 120-day warranty. Who else can offer that?
Here's a quick comparison of belts currently available.
| | | |
| --- | --- | --- |
| Attribute | SPORTSMITH™ GoPro Belts | Other Belts |
| Anti-Static metallized fiber finish | YES | Questionable |
| Seam splice at 100 PSI (the industry's strongest seam) | YES | NO |
| Unique multi-filament thread designed for superior strength | YES | Questionable |
| Material class used in manufacture | Class 10 Materials | Class 5 Materials |
| Material consistency for reduced motor amp draw, roller shaft load, noise level, and roller bearing stress | YES | Questionable |
| Overall lower maintenance costs | YES | NO |
As you can see, SPORTSMITH™ GoPro belts are some of the highest quality available in the market today. Here is what one of our long time customers had to say:
"Your belts were half the price of the OEM (Original Equipment Manufacturer) belts, so I gave them a try. Yours were a lot better! The belt seam is of far greater quality than the original OEM belt. I have ordered parts for other units and found the same high quality of work in all of your parts. SPORTSMITH™ should have a slogan like 'Double the quality at half the price' or something similar. I thank you for the quality of your treadmill belts and better yet the low price."
Reginald L. Jones, CBET – Marshall Medical Center, North Guntersville, Alabama
The bottom line is that SPORTSMITH™ GoPro treadmill running belts are simply better made than almost anything else. They save you money, time, and trouble when it comes to repairs and replacement parts. In today's world, everyone could stand to have more money, more time, and less headache!