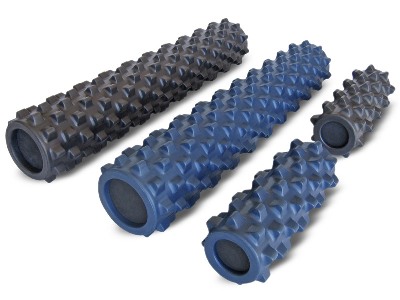 For quite a while now, both therapists and athletes have used foam rollers to relieve pain and stress on their muscles. It's a known scientific fact that muscle compression and manipulation can help with blood flow and relieve pain and fatigue. Most of the foam rollers that have been produced have flat surfaces. While this will help some, it's not as efficient as it could be. Enter the Rumble Roller. It's like having your own massage therapist on hand 24/7!
The difference between the Rumble Roller and other foam rollers is the multitude of "fingers", or bumps that cover it's surface. It's these bumps that produce the more pronounced effects that standard rollers can't do. Instead of merely compressing the muscle tissue, the bumps actually manipulate the muscle, similar to how a real massage therapist or D.O. would do. It's this deep massage manipulation that increases the efficiency of the roller. These bumps are soft and flexible, so you can use the roller on your entire body without worrying about damaging bone or muscle, and two firmness levels are offered as well.
SPORTSMITH currently carries the Rumble Roller in two sizes. The Compact version is only twelve inches long, and can be tossed into a gym bag or suitcase easily. The Full Size model is significantly larger, at thirty-one inches. It's designed for use in the home, or as a permanent piece in a gym setting. We carry the Extra Firm model and in an easy to maintain black color. Both are economically priced and will ship the same day you order them (Monday through Friday). Just call our toll free number or log on to our website and order one today!