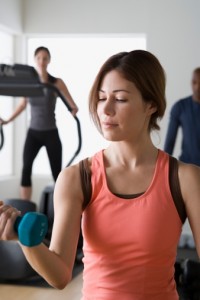 Family Health & Fitness Day Starts Sept 29
Saturday, September 29 2012 is an important day for America. It's not an anniversary of a battle, although it could be seen as a day to engage in battle against the so-called Obesity Epidemic that is sweeping America and the developed world. Family Health and Fitness Day USA  aims to promote health and fitness across America by keeping it in the family.
According to the US Surgeon General's report on physical activity and health,  more than 60 per cent of American adults and almost half of the nation's children do not engage in enough physical activity to maintain health. Family Health and Fitness Day USA aims to encourage parents and children to enjoy activities together and learn how to live a more healthy lifestyle.
Organized by the Health Information Resource Centre (HIRC), 2012's event is the sixteenth of its kind. It's a national and local initiative, with organizations such as schools, hospitals, parks, malls, health clubs and Christian groups such as the YMCA and YWCA hosting non-competitive health and fitness functions for all the family to enjoy.
Family Health and Fitness Day USA is a national wake-up call, aimed at getting families together to learn about nutrition, health and fitness and participate in fun events across the country.  It's a day for families to focus on fitness and make a dent in the frightening statistics relating to obesity and poor health.
The Obesity Epidemic in America
According to the Get America Fit Foundation (GAFF), more than 60 million adults are obese, while 9 million 6 – 19 year olds are overweight. The presentation of hypertension, diabetes and other obesity-related conditions in children is on the rise. As these life-threatening diseases are normally associated with obesity in adulthood, there is a real danger that the current generation of America's children may not make it into old age.
The statistics make for sobering reading. In the space of around thirty years, childhood obesity has effectively trebled, with almost one third of America's youngsters either overweight or obese – that's around 23 million kids.
Why the big rise? Children are now eating around 1,000 calories a day more than they need, and spending up to 6 hours a day in front of the television, computer or games console. Back in the 1960s, almost half of all children cycled to school, but fear of crime, changing weather and increased affluence mean that these days, kids are either taken to school or drive themselves there.  In addition, physical education is no longer a priority on the school curriculum.
Why it's important to be fit and healthy
In purely monetary terms, overall fitness and health benefits both individuals and the government.  Work days lost through illness affect both the employee who loses out on income, and the government, which loses out on income-related taxation. Then there's the burden on the health service, medical insurers and the social security system.
On a more personal level, maintaining a healthy weight and staying fit reduces the risk of contracting obesity-related diseases such as hypertension, diabetes, some forms of cancer, arthritis and cardiovascular disease.  Avoiding these potentially life-threatening conditions makes for a longer life, which means you get to see your children – and probably your grandchildren – grow up. Currently, the average lifespan for Americans is 78.2 years, which is low compared to other developed, relatively prosperous countries.
Just 30 minutes of vigorous exercise five times a week can help maintain physical and emotional health, yet only31% of Americans take enough exercise to obtain those health benefits. Exercise can also boost your immune system, making you less prone to sickness and disease. It's also an acknowledged mood lifter - people who exercise regularly are less likely to suffer from depression.
Involving your organisation in Family Health and Fitness Day USA 2012
Local organizations across America can register to host an event by filling in the registration form on the official website. On receipt of the registration form, organizations will receive a resource pack with ideas and information, and access to the official website. Registration costs $30, and includes a license to use the official logo in publicity material for your event. Small organizations running a single event may qualify for free registration.
Participating in Family Health and Fitness Day USA 2012
Check out the local press for details of events in your area. Local schools, churches, hospitals, medical centres, gyms and sports centres may also be hosting events, so ask around. Available events will depend on the organizations hosting them and local interests. Typically, these events may include workshops, health screenings, games, organized walks and exercise sessions. Email [email protected] for more information on events in your area.
Family Health and Fitness Day USA 2012 is an ideal opportunity to learn more about health and fitness, while enjoying a great day out with the family. Exercise doesn't have to be an ordeal – when the whole family have fun together, getting fit and healthy can actually be a pleasure. Remember, the family that plays together can look forward to staying together for much longer.
What events are you or your facility planning?
(Leave your answer in the comments)
Some fun items to include in your event
Jump Ropes
Medicine Balls
KettleBells
Resistance Tubes
Power Bands
AbMats