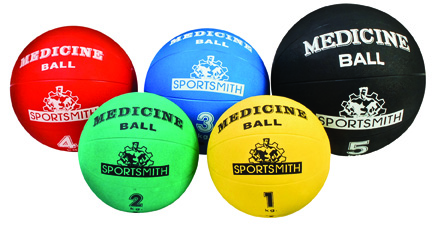 Medicine balls (or fitness balls, exercise balls, call them what you will) have been around since ancient times. Hippocrates was one of the first to make use of such a device, using animal bladders sewn together and filled with sand. Today, they come in a myriad of sizes, colors, and types and athletes in just about every sport you can think of make use of them. SPORTSMITH™ carries several different types of medicine balls to meet our customers varied and always-changing needs. Here is a quick rundown of what we carry.
These are the no-frills smooth balls. They are quite "bouncy", and come in several weights. First, we have the Standard Weight set, which comes in 1, 2, 3, 4, and 5 kilogram weights. Each ball is differently colored depending on it's weight, so there's no confusion as to what ball you're using. Several different styles of storage racks are available for these balls as well. You can purchase these individually, as a set of 5, or as a set of 5 including a storage rack. Made of a super tough rubberized shell with a weighted core, these balls are easily inflated with any standard sports ball pump.
These balls are made of the same tough outer shell and weighted core as the standard balls, but feature two textured handles on each side. The handles are molded directly into the material, so the ball retains a perfect sphere shape. Balls with handles allow you to do different exercises that the standard balls don't allow, and you can even substitute them for actual lifting weights in a pinch. Available in 5 different sizes, like the standard ball, each weight is color coded. Uses the same storage racks as the standard ball, and the same sets are available for purchase.
Soft medicine balls tend to be used somewhat differently than the harder variety. Normally, you would use one as a follow up to strength exercises. They are also well suited to larger athletes due to their much larger 14" diameter. DynaMax balls are some of the best on the market today. The outer covering is incredibly tough while maintaining it's natural softness. They come in a variety of colors and weights, ranging from the light 6-pound ball to much larger sizes, like 20lbs. Mini sizes are also available for those with smaller hands.
Dead Balls, also known as Slam Balls, are for the serious user of medicine balls. They have absolutely no bounce to them, stopping "dead" when they hit the floor, hence the name. Currently, we carry weights ranging from a relatively light 12 pounds all the way up to an absolutely monstrous 100 pound ball. A bright yellow coloration makes them easily visible, and they are constructed of a tough outer shell with a sand filled interior. If you think you know how to use a medicine ball, get yourself one of these and challenge yourself even further.