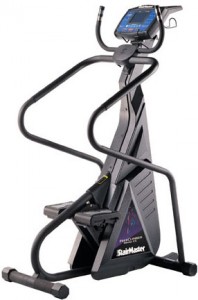 Stairmaster 4600, 4400, & 4000PT Stairclimbers, among the most popular exercise machines sold on the market today, have three electrical components that are responsible for most troubleshooting calls.  The Alternator, Diode, and the resistor are the heart and soul of the Stairmaster 4600/4400PT Stairclimber and often cause resistance levels to drop creating performance problems.
Tools Needed:
7/16", 3/8", & 1/4" nut drivers. 4" piece of wire with alligator clips attached to each end, and a multi-meter,
Symptom:
The Stairmaster loses all resistance when you step onto the pedals.
Alternator Test:
First, remove the machine from its power source. Then remove the side panels so you have a clear view of the alternator. On the back of the alternator, remove the black wire from the terminal B+ (marked POS). Remove the brown wire from the field terminal. You will need a length of wire 4" long with alligator clips attached to each end of the wire. Attach the wire to the B+ (POS) terminal and the field terminal, step on the machine for 10-15 seconds; if full resistance is present, the alternator has correct current flow. If no resistance is present, the next item to check is the alternator brushes. The brown square plate with two machine screws is the cover to the brushes. Remove the two machine screws with a ¼" nut driver and remove the alternator brushes. There should be ¼" or more of brush, any less and the alternator brushes should be replaced first. If the proper amount of brush is available, replace the alternator.
Diode Test:
Remove the brown wire and diode from the field terminal of the alternator and set the multi-meter to the Ohms setting. Place one lead on each end of the diode, and then reverse the leads. A good diode will indicate a high reading in one direction and a lower reading in the opposite direction. Replace the diode if both readings are high or if both readings are low.
Resistor Test:
Remove one wire from the load resistor and place one lead from the multi-meter, one each threaded post on the resistor. If the multi-meter does not read 0.5 Ohms, replace the resistor.  As with any maintenance, procedures always consult your owners' manual or seek the advice of a qualified repair technician.