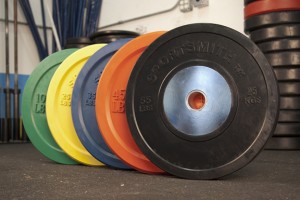 Anyone who takes their fitness training seriously knows that they also have to be serious about their equipment: their gear has to work as hard as they do. For athletes into weight training, it's important to buy bars and plates with precision and durability, but at a price that suits the pocket.
That's why more athletes and coaches rely on Sportsmith. Top brands, low prices and same day shipping have helped make Sportsmith the nation's leading supplier of strength and fitness products.
Right now at Sportsmith, there is an extensive range of black and colored plates, from 10lb up to 55lb, all at the best prices you'll find anywhere. No matter if the end goal is Olympic lifting, gym-based workout programs, or just personal strength and fitness training, Sportsmith has the plates to meet your training and competition needs.
What are bumper plates?
Bumper plates are precision weights made of extremely durable rubber. They're all the same diameter (450mm) regardless of weight, and they all fit an Olympic bar. They were invented in the 1960's during a boom in personal fitness, as more and more people began to realize the importance of weight training for health and strength. Traditional metal weights used in lifting could seriously damage platforms and floors if dropped from height, so bumper plates were developed to bounce safely instead.
While not as cheap as iron plates, bumpers are a sound investment as they are long lasting, much less likely to cause surface damage, and available in colors to make weight selection easier.
Additionally, there are lightweight bumpers called technique plates. These are typically thinner and lighter than normal bumper plates, and aren't really made for repeated dropping. They are ideal for kids, however, or for workouts that focus more on technique and general fitness than on explosive strength.
If you're setting up equipment for a professional or home gym, you're going to need a good variety of bumper plates. It can be a big investment, so you want to get it right. Choose a supplier that offers quality and variety and won't break your budget. Choose Sportsmith, because the only thing you want to be sweating over is your workout.
Sportsmith bumper plates
For serious lifters, Sportsmith has competition bumper plates in black, ranging from 25lb (at just $56.95) to 55lb monsters, priced at just $104.95. With precise calibration, each plate bears the Sportsmith logo, and that's a personal guarantee of quality.
Also available are bumper plates designed for every health centre or home training setup. Ideal for high intensity interval training training, Sportsmiths range includes Olympic rubber bumper plates in black or colors, with or without the logo. Pick up your basic black 10lb bumper from only $15.75, or a colored (green) weight for just $19.95. Choose a quality 25lb yellow, 35lb blue or 45lb red bumper, or go for the same models in black and save even more.
Complete sets are also available. For the complete range, just click on this link: Bumper Plates
Want more? Check out Sportsmiths technique plates, or fractional plates as small as ¼ lb plates, available in matching pairs.
Sportsmith has the gear to get you fit. The rest is up to you.