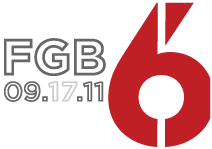 Fights happen, whether professionally in the ring, or unexpectedly on the street. B.J. Penn knows fighting. He's fought in the UFC for over a decade, and only the second man in UFC history to hold titles in two different weight classes. He wanted a workout that was designed to emulate the raw energy and physical exertion that went into a typical UFC fight. When he was done, he was asked about the workout, and said it was like a "Fight Gone Bad".
The first Fight Gone Bad competition was held in 2006. It isn't so much a competition, however, as a fundraiser.  That money goes to several organizations, most of which are dedicated to helping our wounded troops and their families. FBG6 is a fundraiser to help wounded US troops that have put their lives on the line for us.
The rules are pretty simple. You spend a total of 17 minutes doing some of the most brutal, intense exercises imaginable. Participants are awarded points based on how many "reps" they perform. There are 5 stations set up, and you spend one minute at each station. After all 5 are done, you rest for one minute, then repeat twice more. The stations each have a drastically different type of exercise, so every part of your body will be working overtime. The workout stations are:
The Wall-Ball (10f. target)
The Sumo Dead Lift high-pull
The Box Jump
The Push-Press
The Rowing Machine
After the points are tallied, a specific amount of money is donated to the aforementioned charities. CrossFit has been associated with FGB since its inception, and continues to support this noble cause. SPORTSMITHä has it's own CrossFit affiliated gym built right into our warehouse, and we are proud to be associated with FGB this year and to help support our wounded and fallen heroes.
If you would like to participate in this years Fight Gone Bad 6, then here's what you need to do. Simply register at your local CrossFit affiliate before Wednesday, September 14th, 2011, or you can register online here.
And that's it! The competition will take place on September 17th, 2011. Prizes will be awarded for those raising specific amounts of money, and these prizes could even include an all-expense paid trip to the CrossFit games in 2012! So, what are you waiting for? Get out there and FIGHT!
Enjoy this article?