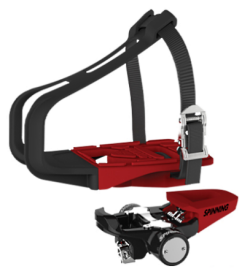 Sportsmith is proud to now carry the TRIO QR® and the TRIO® Pedals!
TRIO QR®'s "Quick Release" design makes it that much easier to quick change between riding with
everyday shoes, LOOK® or SPD® cleat connections. With a push of a button riders are able switch which pedal style they need. Both TRIO QR® and the TRIO® Pedals come in threadless (Morse Taper) or standard thread…. Yes, that means they fit on any indoor cycling bike! Spinning has truly out done themselves with these designs. Whether you choose the "Quick Release" or not your members will enjoy the benefits that both TRIO® Pedals provide. With the over-sized commercial grade pedal spindles
and sealed bearings you will love these pedals just as much as your club members!
Spinning recommends the following threads for specific bikes:
Threadless (Morse Taper) pedals recommended for Spinner® Blade, NXT, NXT-SR, and steel frameeSpinner
Threadless pedal only fits 2012 (or later) model year Spinner bikes manufactured by Star Trac
Standard Thread pedals recommended for Spinner® Pro and non-Spinner brand indoor cycling bikes
So what makes these new pedals so special?
They easily accommodate other non-cycling shoes with their snap-in pedal platforms.
They can easily be removed from a platform due to the patented quick release levers.
Added durability means over-sized commercial grade pedal spindles and sealed bearings to keep you logging miles.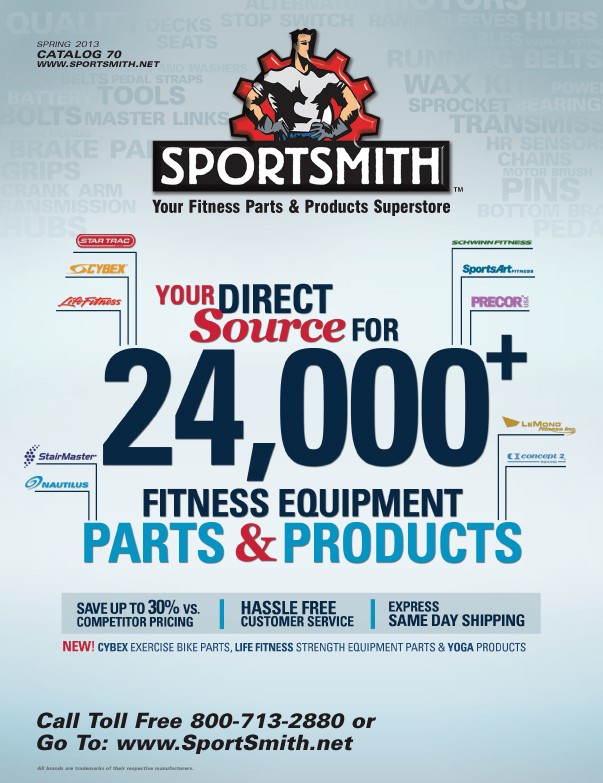 Hot off the press is the new Sportsmith Fitness Parts & Products Catalog along with the Sportsmith Fitness Training & Conditioning Catalog and we have the inside scoop on what's new! First off you have to check out the Smart Phone App Tag Feature! Throughout the catalog we have tags for videos, tutorials, error code messages, and articles to help make maintenance just a bit easier!!!
Find newly featured replacement parts for the LifeFitness Seated Leg Curl model FZSLC and model PSSLC. Also new to the Sportsmith catalog are replacement parts for CYBEX bikes 625R & 625C.
Here's a list of some of the new products we're excited about and featured in the new catalog!!
Can't find a part or product you need in our catalog? Don't forget to check out www.sportsmith.net or call 800-713-2880 for a complete list of parts and products offered by Sportsmith.

Having a problem with you Star Trac StairMill battery draining and the unit not powering up? It's possible that you have too much tension in the chain system.
Below is a summary of the video above, "Star Trac: E-SM - Battery Drain and Chain Tension" by Star Trac.
Perform weight test. This will allow you to verify if there is too much tension.
Check chain tension. There should be a 25mm-32mm gap between the Idler Pulley and the chain.

If the gap is less then 1 inch you will need to Adjust the Idler Pulley Gap.
Loosen both right and left side pillow blocks.
Make an adjustment on the set screws using an Allen key. The brackets on the right and left side should be the same. Tight pillow blocks back.

Measure chain sag.

Place a straight edge across the top and bottom bearing.
Measuring the amount of sag from the bottom of the straight edge to the top of the chain there should be ¾"(19mm).

Adjusting the Chain Tension for the Correct Amount of Sag.

Loosen pillow blocks on both the right and left side of the bottom pulleys.
Back out set screws. (Equal amount on both sides).
 Before checking sag tighten pillow blocks on both sides.
 Should have a ¾"(19mm) gap on both right and left sides.

Perform weight test again. Double check the sag measurements and make corrections if the steps still do not move.
Test the StairMill before putting the shrouds back on the machine.
For Star Trac Replacement Parts click here.