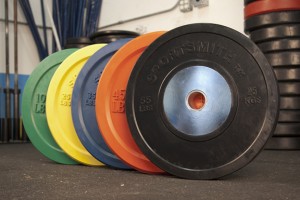 Anyone who takes their fitness training seriously knows that they also have to be serious about their equipment: their gear has to work as hard as they do. For athletes into weight training, it's important to buy bars and plates with precision and durability, but at a price that suits the pocket.
That's why more athletes and coaches rely on Sportsmith. Top brands, low prices and same day shipping have helped make Sportsmith the nation's leading supplier of strength and fitness products.
Right now at Sportsmith, there is an extensive range of black and colored plates, from 10lb up to 55lb, all at the best prices you'll find anywhere. No matter if the end goal is Olympic lifting, gym-based workout programs, or just personal strength and fitness training, Sportsmith has the plates to meet your training and competition needs.
What are bumper plates?
Bumper plates are precision weights made of extremely durable rubber. They're all the same diameter (450mm) regardless of weight, and they all fit an Olympic bar. They were invented in the 1960's during a boom in personal fitness, as more and more people began to realize the importance of weight training for health and strength. Traditional metal weights used in lifting could seriously damage platforms and floors if dropped from height, so bumper plates were developed to bounce safely instead.
While not as cheap as iron plates, bumpers are a sound investment as they are long lasting, much less likely to cause surface damage, and available in colors to make weight selection easier.
Additionally, there are lightweight bumpers called technique plates. These are typically thinner and lighter than normal bumper plates, and aren't really made for repeated dropping. They are ideal for kids, however, or for workouts that focus more on technique and general fitness than on explosive strength.
If you're setting up equipment for a professional or home gym, you're going to need a good variety of bumper plates. It can be a big investment, so you want to get it right. Choose a supplier that offers quality and variety and won't break your budget. Choose Sportsmith, because the only thing you want to be sweating over is your workout.
Sportsmith bumper plates
For serious lifters, Sportsmith has competition bumper plates in black, ranging from 25lb (at just $56.95) to 55lb monsters, priced at just $104.95. With precise calibration, each plate bears the Sportsmith logo, and that's a personal guarantee of quality.
Also available are bumper plates designed for every health centre or home training setup. Ideal for high intensity interval training training, Sportsmiths range includes Olympic rubber bumper plates in black or colors, with or without the logo. Pick up your basic black 10lb bumper from only $15.75, or a colored (green) weight for just $19.95. Choose a quality 25lb yellow, 35lb blue or 45lb red bumper, or go for the same models in black and save even more.
Complete sets are also available. For the complete range, just click on this link: Bumper Plates
Want more? Check out Sportsmiths technique plates, or fractional plates as small as ¼ lb plates, available in matching pairs.
Sportsmith has the gear to get you fit. The rest is up to you.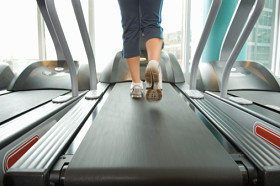 So how do you adjust the Tension on a Treadmill Running Belt?
It is necessary to properly tension a treadmill belt when it is replaced. After time, a belt can stretch and may begin to slip. When this happens, it is necessary to adjust the tension of the belt to stop it from slipping.
Manufacturers of treadmills generally agree on one of three procedures for tensioning a running belt.
Adjust for no slippage of the

treadmill running belt

on the front roller (Often referred to as the "Stomp Test")

This procedure works well for a previously installed belt that is now slipping.
Underside of belt should be free of any glazing/wax buildup.
Rollers must also be free of wax buildup.
Be sure belt tracking/centering is correct before proceeding.
The most popular speed for this adjustment is 2mph to 3mph.
Try to slow the belt by applying pressure with your foot against the belt movement while grasping the handrails. If the running belt slow, slips or stops (and the front roller does not) adjust BOTH adjustment bolts 1/4 turn clockwise. Test again and repeat adjustment if necessary.

This procedure requires two

belt gauges or calipers

This procedure works well when installing a new belt.
This procedure requires you to stretch the belt. Depending on the manufacturer*, this varies between .4 and .6 percent. A dial on the gauge or caliper will indicate the amount of stretch. *Consult the owner/service manual for proper tension.
If you are working on a previously tensioned belt you will need to release the tension before attaching the gauges or calipers.

Gauges or Calipers unavailable

Release the tension on the belt.
Using a yard stick or tape measure, place two marks on the left and right edges of the belt and deck 36 inches apart (or 50 inches if you prefer).
Adjust the left and right tensioning bolts until both sides measure 36 3/16 inches (or 50 1/4). This is equal to .5% of stretch.
Test for proper tracking and tension, adjust if necessary.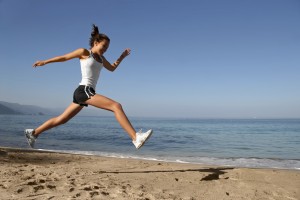 This year's National Family Health & Fitness Day falls on September 29th, and as every year, on the last Saturday in September. Events are scheduled in local communities throughout the United States, to promote family involvement in physical activity. There are many ways, and just as many reasons to participate.
Lifestyles have changed through this country's evolution to its present state, and so has the level of physical activity in its families. This is commonly evidenced by the overall American state of health. The American Health Foundation says that health improvement in the U.S. has declined more than 69 percent over the last decade, as compared to the 1990s.
Various issues are often purported to be the root of this decline, yet, regardless of cause, the evidence is still the same. American families need more physical activity.
Physical activity is beneficial to the health of both mind and body. This applies to anyone, at any age. Parents who set an example for their children, in scheduling regular physical activities for the family, are setting them up with healthy habits that could last for a lifetime.
These activities may not need to take much extra time, if any at all. You might easily integrate some into regular daily activities, such as walking to work or school. Still, if you are uncertain as to how much physical activity is necessary to maintain a healthy body, there are some suggested guidelines to work with.
Adults require two types of physical activity, according to the Centers for Disease Control and Prevention. These include moderate-intensity aerobic activity for 2 ½ hours weekly; accompanied by two or more days of muscle-strengthening activities, that work all the major muscle groups.
For younger family members, The National Institutes of Health states that most children need at least an hour of physical activity each day. A few of the benefits that this one hour can yield are stress relief, a healthy weight, and raised self-esteem.
On the other end of the spectrum, a lack of physical activity may yield the opposite effect. According to the Mayo Clinic, physical activity helps to prevent, and even to heal the effects of such inactivity. These include high blood pressure, obesity, and depression, to name a few. These types of issues often come together, making it easier to prevent them than to overcome them.
Alarmingly, these issues are no longer exclusive to adults, as many had once considered them to be. Obesity itself is now considered at epidemic levels, and affecting any age.
Aside from unwanted physical and emotional health issues, obesity has unexpected financial costs, and thus creates expense that anyone can afford to lose. An infographic from Forbes offers some surprising insights into this aspect.
It offers straightforward facts such as, in America alone, in the year 2010, medical costs related to obesity were at $160 billion. Gas consumption, due to increased passenger weight in earthbound vehicles, went up an extra 938 million gallons for that same year. Airline fuel consumption soared, as well. Yet, these are just a part of the unnecessary expenses associated with obesity.
This epidemic must be faced.
Hence, family health and fitness is one venue to empower each family member individually, as well as the family as a whole.
Empowerment could mean that you or your child may never need to take on the challenges and associated health risks of an obesity issue; or it could mean that a family member who already has can experience the thrill of victory, with overcoming these same things.
Physical activity puts your family more firmly in control of its own physical health, and hence, of its own financial health.
National Family Health & Fitness Day can be that first step in a healthier direction, or it can be another step on the road to family fitness. It matters not what level of fitness your family is at, it is a day to re-empower your whole life, and the life of your whole family.
The National Family Health & Fitness Day website offers suggestions on where you may find these events held in your local community. These can include your local YMCA, schools, health clubs, and various other community locations. Your local newspaper may have events in your area listed in its community events section.
If you happen to live in an area without an event held nearby, you can still participate in the day. Invite your family for some physical activity, and enjoy the benefits in more ways than one.
Suggestions for the day might include:
* A walk
* A bike ride
* A game of Frisbee golf
* Line dancing
* Rollerblading, roller skating, skate boarding
* Any sport the whole family enjoys participating in
Whatever you do, be creative, have fun, and be actively involved in your family's health and fitness.