Unfortunately, everyone has to deal with being sick. It usually hits at the most inopportune times. This holiday season, along with decking the halls, protect your club members against all sorts of illnesses with some of the effective anti-microbial products that we carry.
Fitness Equipment Cleaning Wipes
By far our best selling wipe (and one of our best selling items overall), this box contains 2 rolls of 900 sheets each. These wipes clean and deodorize and are alcohol free. They come in sealed bags. So just pop a roll into a dispenser (see below), and you're all set. They are designed for use on gym equipment, and are safe for most any surfaces.
These alcohol and lint free hand wipes come with 4 sealed packages per case, 800 sheets per roll. These are FDA approved wipes that are a great way to prevent the spread of germs and bacteria. They won't dry your hands out, and smell fresh and clean.
WIPESPlus Surface Disinfecting Wipes
As with several other wipes we carry, these are alcohol free. Useful for more than just equipment, these wipes come 4 packages to a box with 800 sheets per roll. Intended as an all purpose wipe, these can be used on any surface that potentially dirty hands touch, including counter tops, doorknobs, and most gym equipment. Kills a wide variety of microbes, including the virulent staphylococcus aureus and several types of influenza virus, even destroys certain types of fungus. Don't be left defenseless against the ravages of these types of nasties, folks. Defend yourself with these low priced bug killers.
Featuring the same anti-microbial power that's in Purell hand sanitizer, these convenient wipes destroy 99.9% of all common germs that cause illness. Packaged in a convenient, transportable bucket, just pop the top, get what you need, and replace the air tight lid. We also carry refills for the bucket once you run out. These are ideal for workplaces, gyms, offices, anywhere large groups of people gather. 1200 sheets per roll. NOTE: Due to this product containing Isopropanol alcohol, they CANNOT be sent via air. Ground shipping ONLY.
We also carry a dispenser in which to put our various lines of wipes. In addition, we also carry a floor stand to put the dispensers in. No need to look in a hundred different places for what you need!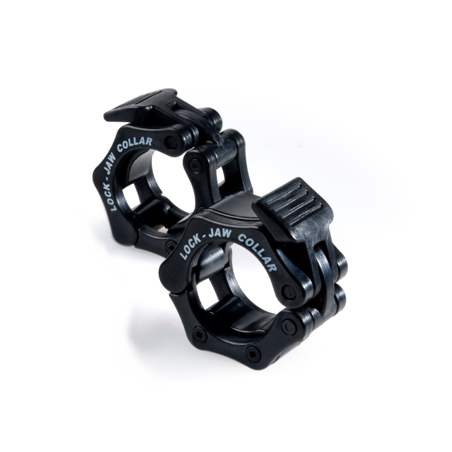 Ok, so maybe not the cure for the disease (lock jaw is an old term for tetanus), but definitely the cure for some of your weightlifting needs. Olympic bars typically lack any sort of integrated mechanism designed to keep the plates from slipping off. This is by design, as you need to be able to quickly slip plates on and off during actual weightlifting competitions. What you actually use to keep the plates on, however, can be a major factor in your lifting. Traditionally, a metal sleeve was used that had a tension handle screwed into either one or both sides. You'd turn these handles to secure it to the bar. This, however, isn't ideal (not to mention the screws can potentially damage your lifting bar). For one, during heavy lifting sets, the screws can easily loosen due to the impact of the bar hitting the ground or the cradle.
Enter the Lock Jaw Collar. This is a fairly new product that has been getting rave reviews by weightlifters all over the world. Its simple, easy to use design has made it popular with both amateur and professional lifters alike. It's incredibly easy to use. Simply pull on the release handle to release it, and push it down firmly to secure it to the bar. Nothing could be easier. The collars are constructed of high-impact nylon resin polymer, so not only are they extremely durable, they're completely immune to the effects of the environment. No rusting here! The chain like design also fits any barbell out there. The inside surface is a non-slip material, so they won't slide off, and unlike the heavier metal collars, they only add about 12 ounces to your overall weight. Currently, SPORTSMITH carries them in a matte black color, and you receive a discount when purchasing multiple pairs. Grab some today, and take your weightlifting game to the next level!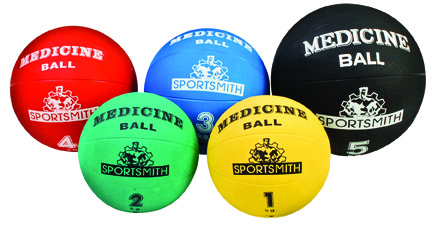 Medicine balls (or fitness balls, exercise balls, call them what you will) have been around since ancient times. Hippocrates was one of the first to make use of such a device, using animal bladders sewn together and filled with sand. Today, they come in a myriad of sizes, colors, and types and athletes in just about every sport you can think of make use of them. SPORTSMITH™ carries several different types of medicine balls to meet our customers varied and always-changing needs. Here is a quick rundown of what we carry.
These are the no-frills smooth balls. They are quite "bouncy", and come in several weights. First, we have the Standard Weight set, which comes in 1, 2, 3, 4, and 5 kilogram weights. Each ball is differently colored depending on it's weight, so there's no confusion as to what ball you're using. Several different styles of storage racks are available for these balls as well. You can purchase these individually, as a set of 5, or as a set of 5 including a storage rack. Made of a super tough rubberized shell with a weighted core, these balls are easily inflated with any standard sports ball pump.
These balls are made of the same tough outer shell and weighted core as the standard balls, but feature two textured handles on each side. The handles are molded directly into the material, so the ball retains a perfect sphere shape. Balls with handles allow you to do different exercises that the standard balls don't allow, and you can even substitute them for actual lifting weights in a pinch. Available in 5 different sizes, like the standard ball, each weight is color coded. Uses the same storage racks as the standard ball, and the same sets are available for purchase.
Soft medicine balls tend to be used somewhat differently than the harder variety. Normally, you would use one as a follow up to strength exercises. They are also well suited to larger athletes due to their much larger 14" diameter. DynaMax balls are some of the best on the market today. The outer covering is incredibly tough while maintaining it's natural softness. They come in a variety of colors and weights, ranging from the light 6-pound ball to much larger sizes, like 20lbs. Mini sizes are also available for those with smaller hands.
Dead Balls, also known as Slam Balls, are for the serious user of medicine balls. They have absolutely no bounce to them, stopping "dead" when they hit the floor, hence the name. Currently, we carry weights ranging from a relatively light 12 pounds all the way up to an absolutely monstrous 100 pound ball. A bright yellow coloration makes them easily visible, and they are constructed of a tough outer shell with a sand filled interior. If you think you know how to use a medicine ball, get yourself one of these and challenge yourself even further.